I honestly didn't have any idea on what Tiger Tribe is. I am quite lazy to research, hihi. But you know what, my friend Cheryl has this knack for spotting products that has potential. We're actually very lucky that she decided to distribute Tiger Tribe here in the country.
Last weekend, the kids received their first Tiger Tribe Activity kits.
These are really interesting, organized and very well though of activity kits. Here's a look inside:
Brilliant right? On the left part is a booklet which teaches you how to draw – STEP BY STEP! The kit has a sharpener, eraser and colored pencils. On the right side, is a pad with very smooth and thick paper that has grids on them – to make learning to draw easier. If you look closely (zoom in) the fairy page you'll see it also has grids to mark the spot where they'll start drawing.
This is what the Construction Coloring Kit looks like when you open it up: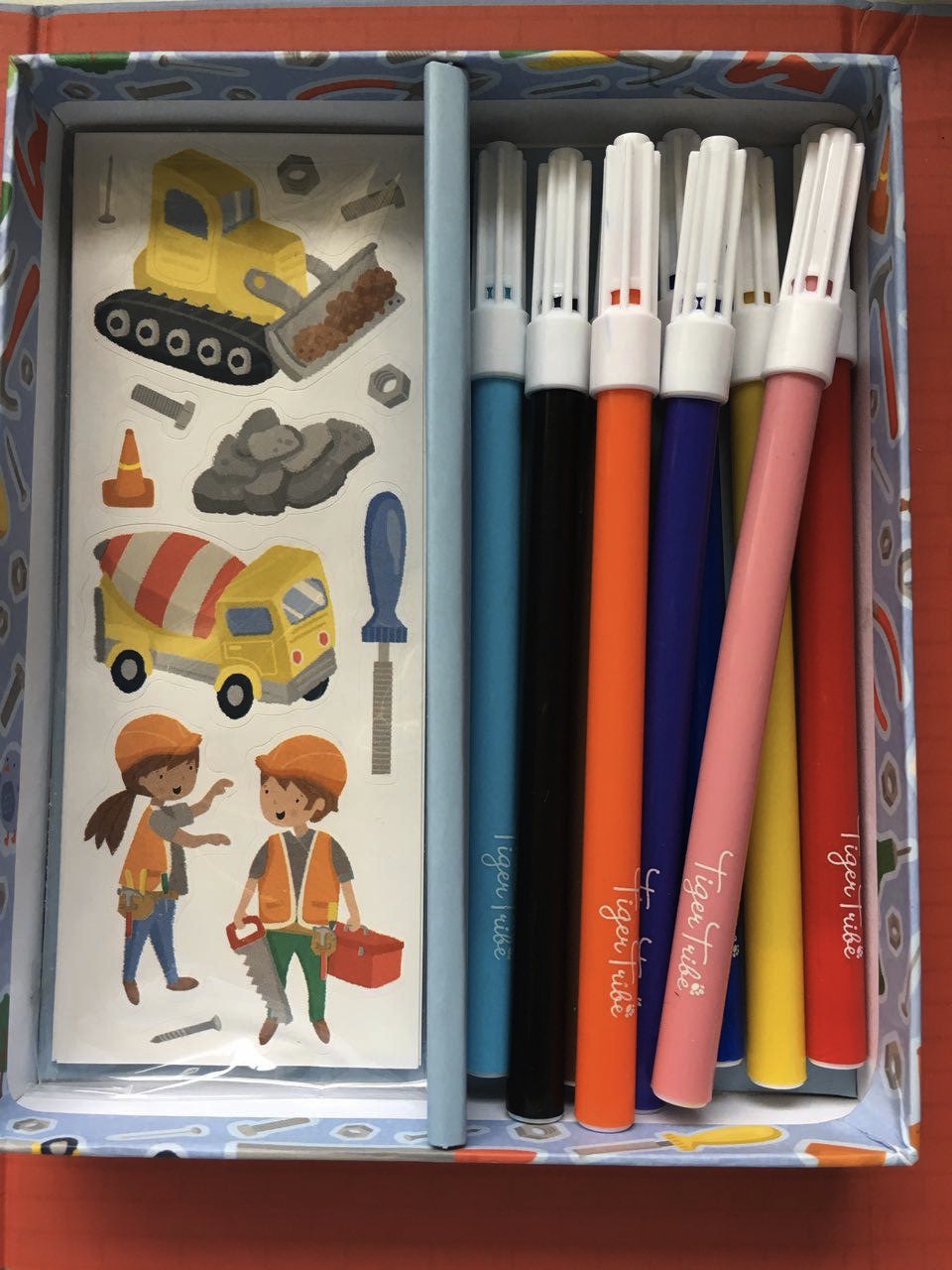 The left part is a case for the colored markers and stickers. On the right side is the activity pad for coloring, following the dots and how to draw too! My favorite part of this Construction Coloring set is this:
It has a built-in cardboad that you can use under the page you are coloring to avoid – BLEEDING! I was silently doing the slow clap when I saw this. They thought of EVERYTHING! These little details I appreciate very very much.
I was blown away, these two kits. It is perfect to keep the kids occupied – ANYTIME! I like that this encourages drawing without the need to attend classes. I really really like how well thought of this kit it. Amazing. They executed it very well.
You know what the best part is? The price! It's not as expensive as those Crayola Mess Free kits. The How to Draw Kit is P645.00, while the Construction Coloring Set is P495.00. I find the price really appealing, and I'm quite kuripot when it comes to these things.
Think about this at P645.00, your child will be able to LEARN how to draw by just following the pictures in the booklet! And not just basic drawing at that. It makes the kids more observant, Kailee has been trying her hardest to copy the best she could the mermaids and fairies – and if you ask me, she's doing a very very good job. Look at the video below.
Another thing that I LOVE about Triger Tribe is they're portable too! It's clean and comes in a box that has a magnetic strap. Everything is held in place – no mess, no spills and no hassle! Perfect for us mom and our kids! Another good idea? CHRISTMAS GIFTS! They're very practical and mess free. PERFECT!
BrightBrands, the local distributor of #TigerTribe has a lot more activity kits for your girl and boys. Head on the their Facebook Page and see.
Here's the complete catalogue of Tiger Tribe from BrightBrand. Please click the link below: https://drive.google.com/open?id=0ByTzyaxBZ8itU3I1RE0tRGxtZEU