You see, when it comes to diapers – well, let's be honest, we want the cheapest one that we can find that hopefully will do its job well. With Kailee, it was unfortunate that the brand that I wanted for her gave her diaper rashes. This diaper rash was so bad that we had to go to the pedia and the doctor prescribed a steroid cream. I think it was the Yaya's fault + the diapers. We had to switch brands and this brand was quite pricey – but since it didn't her give Kailee rashes, well – we had to buy it. We had no choice. I would remembering hoarding boxes of this competing brand whenever there was a sale in S&R. I was quite happy with it that it became the standard choice when Connor arrived.
Well, I was wrong. What I thought was the best turned out to be not the best for Connor. We experienced leaks and rashes. I was honestly surprised because I assumed that since Kailee was so comfy in it, that Connor would be too! So I searched, and searched only to find that the brand I wanted for Kailee, did it's job well for Connor. It was cheaper thus more economical for me. I've honestly been aware of the brand Goon for quite a while now. I remember seeing it in one of those baby fairs around. I often wondered though, where was it being sold. Fast forward to a few months ago when I received an invite from Goon Philippines. I was very excited honestly, I wanted to see and know what it was really all about. The event was pretty straightforward, which I really liked. They didn't go around the bush and instead presented us with the best qualities of the diaper. I'm sure all of the moms there were impressed because I really was.
This was when a Goon diaper was put to the test. I liked the fact they used purple colored water to showcase Goon's selling point – it's absorbency. They presented two leading brands in the market and of course – a Goon diaper! Everyone was amazed at how much water a Goon diaper can absorb! When you touch it, it's not even wet at all! The other brands were leaking already. And can you guess how much water that is? 5 cups! Yes, 5 cups of water. Amazing, right?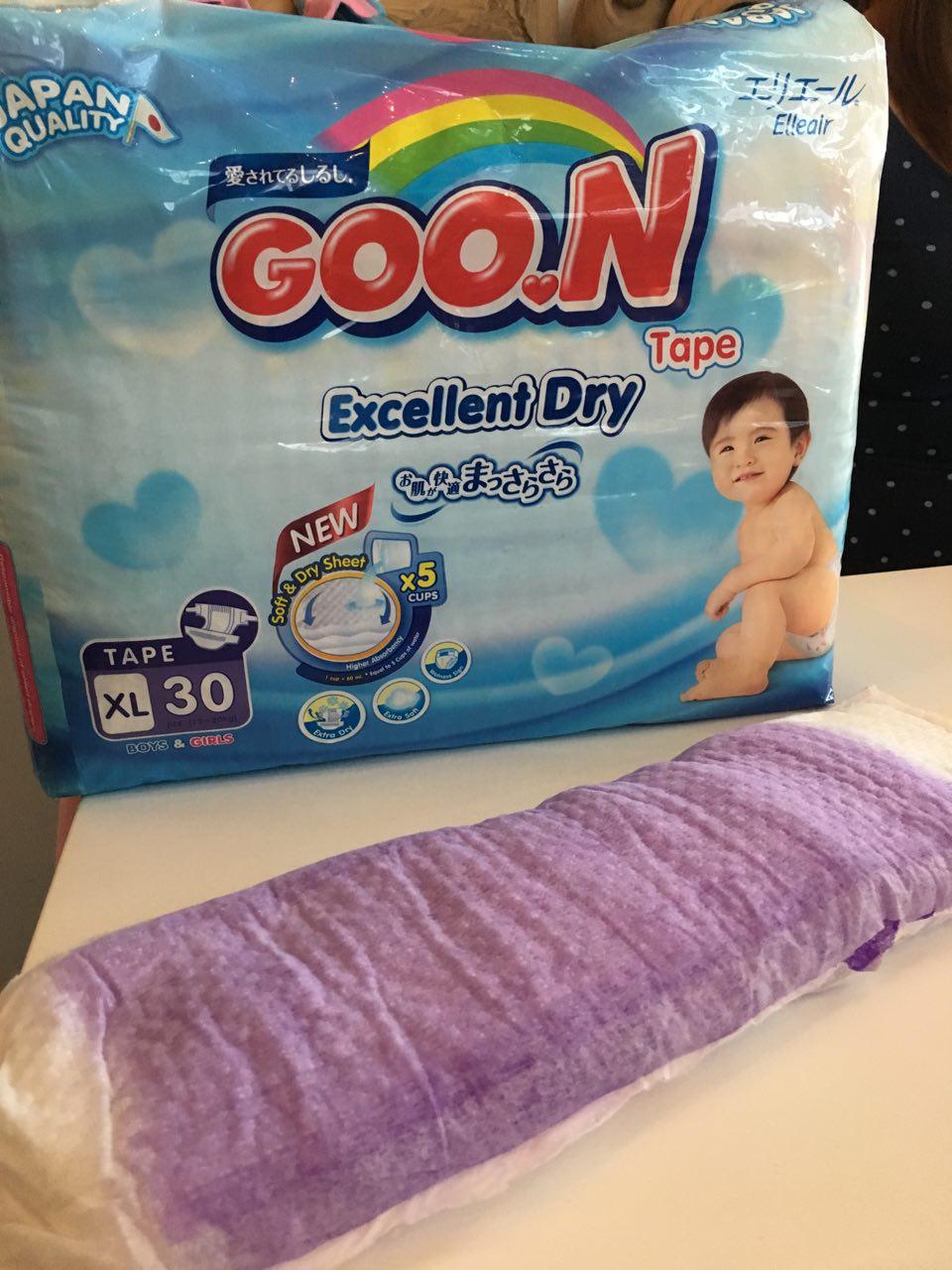 They also have a wetness indicator. Which is so convenient and helpful!
I was so eager to try it that same night. And we did. Usually, Connor has 2 to 3 diaper changes during the night. I said, that this was the ultimate test of Goon diapers. If Goon can handle Connor's multiple diaper changes at night, then we've found a winner in Goon. I was telling Connor that he will be using a new kind of diaper, he was quite excited too. So the next morning, I was so curious on the result. I asked Yaya Belen first if she changed Connor's nappies – she said no with a huge smile on her face. Then when Connor woke up, he went to me and told me *No overflow, Mommy!* That was Night #1. I tested it again for a week – and guess what? No leaks! No overflows! We just used one (1) diaper a night! Can you believe it? One diaper a night! Talk about economical! I also was watching out for rashes and irritations – and I saw none. When we used up our pack of Goon diapers, Connor reminded me to buy more. During my regular supermarket run, Connor told me *Mommy, Goon diapers please!* Even Connor is now aware of the brand! Many friends have told me they are using Goon diapers! I was so happy to hear that. How I wish that during Kailee's time, Goon was already here in the country. Better late than never, right? Click below for the press release.
Go on and give your little ones the freedom with GOO.N Diapers
Babies love to see, smell, hear, taste, and feel the world around them. But as any mom knows, their diapers can slow them down, and in turn, can slow parents down as well. When it comes to your baby, let your little one keep on moving without the discomfort with GOO.N Diapers!
GOO.N Diapers is a leading diaper brand in Japan and Southeast Asia such as Thailand and Indonesia, and is now in the Philippines through One-Stop Distribution Inc (ODI), a distribution company known for bringing premier brands in the country.
"Japan is known for its cutting-edge technology when it comes to their products, and diapers are no exception. We are thrilled to bring GOO.N Diapers to the Philippine market. Its affordable price points will make sure that we can bring these superior-quality diapers closer to Filipino families, so infants and toddlers can enjoy the best of their surroundings, while parents relish in quality time without worrying about their babies' comfort." says Jesse Ho-Maxwell, President of One-Stop Distribution, Inc.
GOO.N Diapers give the best diaper technology and offer the best comfort for babies as they grow from newborn to toddler. Its ultra absorbent core and super soft, dry and breathable outer sheets wick moisture away from your child's skin and allows your baby to move freely! With GOO.N, babies can experience uninterrupted sleep and more active playtime. Moms need not worry about having to change diapers all the time nor feel anxious that their babies will get messy leakage or diaper rash.
Sisters Jessica Kienle-Maxwell and Stephanie Kienle-Gonzalez, GOO.N Diapers' newest brand ambassadors, are ideal examples of moms on-the-go. As these well-known designer duo lead hectic schedules, making time for both their families and their careers can be quite a challenge.
"Motherhood is such a life-changing experience. Your priorities and your values change, and ultimately, you just want the best for your baby. When I first had my child, juggling my work and parenting together was tough. But as I learned along the way, choosing high-quality diapers was so important for my baby's welfare and makes my job a lot easier," shares Steph "And now that Jess has just given birth, I can't wait to share more of my parenting tips and experience motherhood together with her!"
GOO.N offers premium (GOO.N Premium) and economy (GOO.N Friend) diapers. Each one comes in pants and tape variants depending on your child's needs.
Give your little one the freedom to move around and play to his/her heart's desire, like all babies should. Connect with your baby and teach them all about the world they live in. Go on, and feel free with GOO.N Diapers!
For more information, visit @GoonDiaperPH on Facebook and @goonphilippines on Instagram.
GOO.N Diapers are available in SM Hypermarket, Rustans, Robinsons, Lazada, Makati Supermarket, Pioneer, Unimart, Rose Pharmacy, Generica, Puregold (Duty Free), Landers, Baby Company, Fishermall. Alfamart, Cash and Carry, Alturas, and others, and comes in different sizes from Newborn to XXXL. SRP: GOO.N Premium Tape/Pant Super Jumbo – Php 680.00 and Jumbo – Php 420.00 and GOO.N Friend Tape Super Jumbo – Php 439.00, Jumbo – Php 229.00, Regular – Php 79.00
—
About ODI: OneStop Distribution is a private corporation engaged in Marketing, Importation, and Distribution of superior quality food and non-food products. It is a member of Magsaysay Transport and Logistics Group.