It was by pure accident that we passed and saw Shake Shack in Gangnam. I didn't even know that there was a Shake Shack in Seoul, South Korea. I have been wanting to try it since learning about it a few years ago from friends who have gone to New York. While we were in London last 2015 – I was aware that there was a Shake Shack that recently opened that time, we just didn't have time to visit, and then that same year, we went to Tokyo – we still didn't get to visit. It wasn't a place that we needed to visit, but it was a place I *wish* to visit, alam mo naman my Panget! It was right after our Samgyupsal dinner, we came from Everland and got dropped off at Gangnam. We were quite tired and dreading the commute back to our Airbnb apartment as it was 20 stops from Gangnam to our nearest stop. The travel time was more than an hour, it was a really long commute considering it was just one line. We were just walking and figuring out where the subway stop was. Google Maps works differently in Seoul, for the first time – the app was useless. When we reached the main Gangnam street, I turned around to see what was behind us, you know to figure out where we were, to somehow have a grasp of where everything was. Then I saw these big bold letters and neon signage said SHAKE SHACK. My heart leaped a bit and it was that exact moment that my Panget said out loud SHAKE SHACK! We were both suddenly alert again. My Panget said for us to try their burgers, I told him that I didn't want to eat anymore. We effing just literally came out from a dinner a few minutes ago! But you know what, since there wasn't a line AND the servers were speaking English, I gave in. Hahaha!! So we ordered one burger each for me and my Panget and a milk shake. The milkshake *special* that time was Matcha, my Panget's favorite. He was more than happy to try that flavor.
So we ordered and waited. We got the Shack Burger because it had 3 stars and the 'Shroom Burger because I liked mushrooms. Hahaha!! Finally, the buzzer was lighting up, it was time to get our orders from the counter.
This is Connor thinking, *What? Eating, AGAIN?* Hahaha!!
I totally forgot to order fries! Blame it on my already filled tummy. I honestly don't know which is which, but here are that the burgers looked like: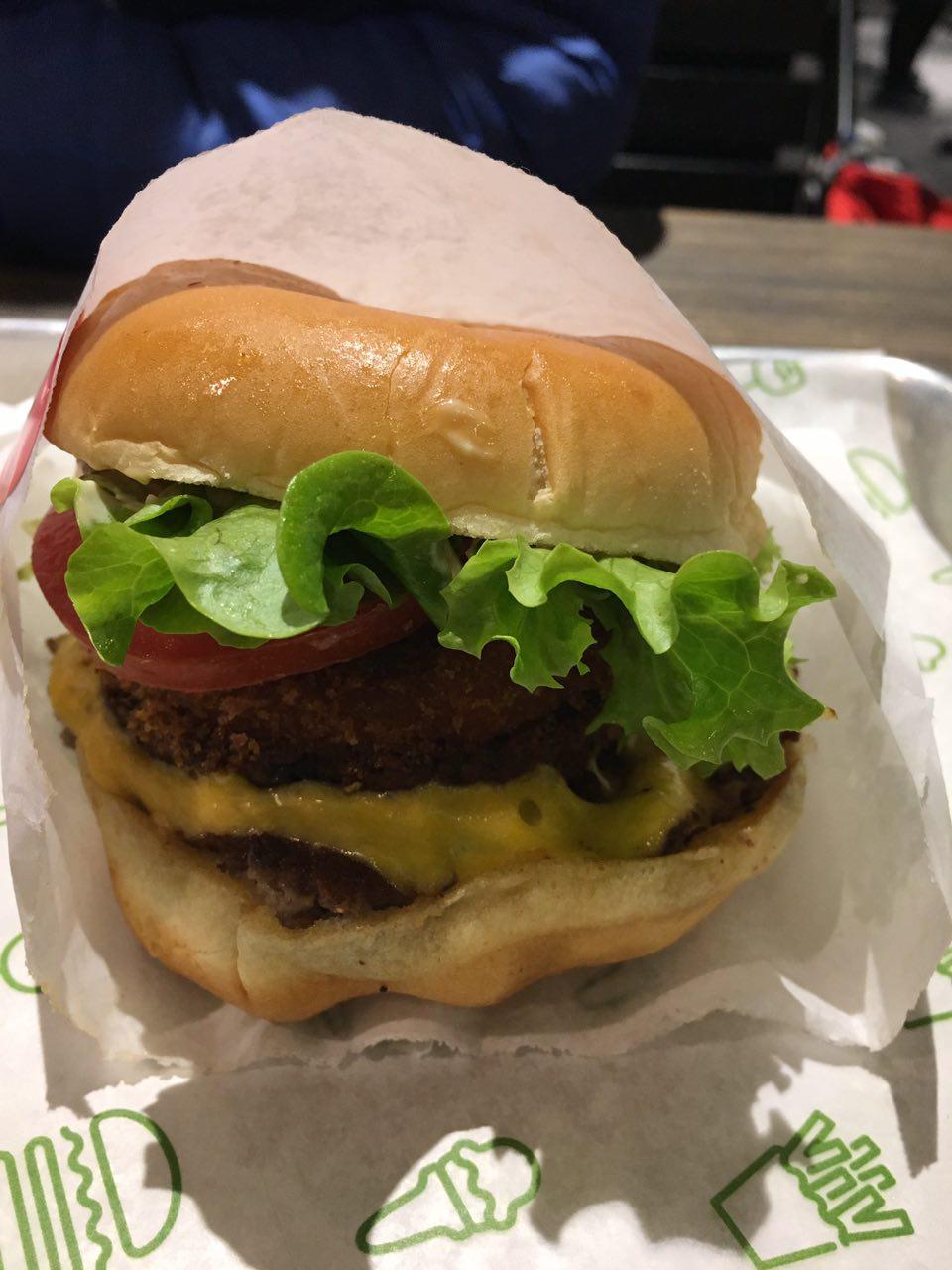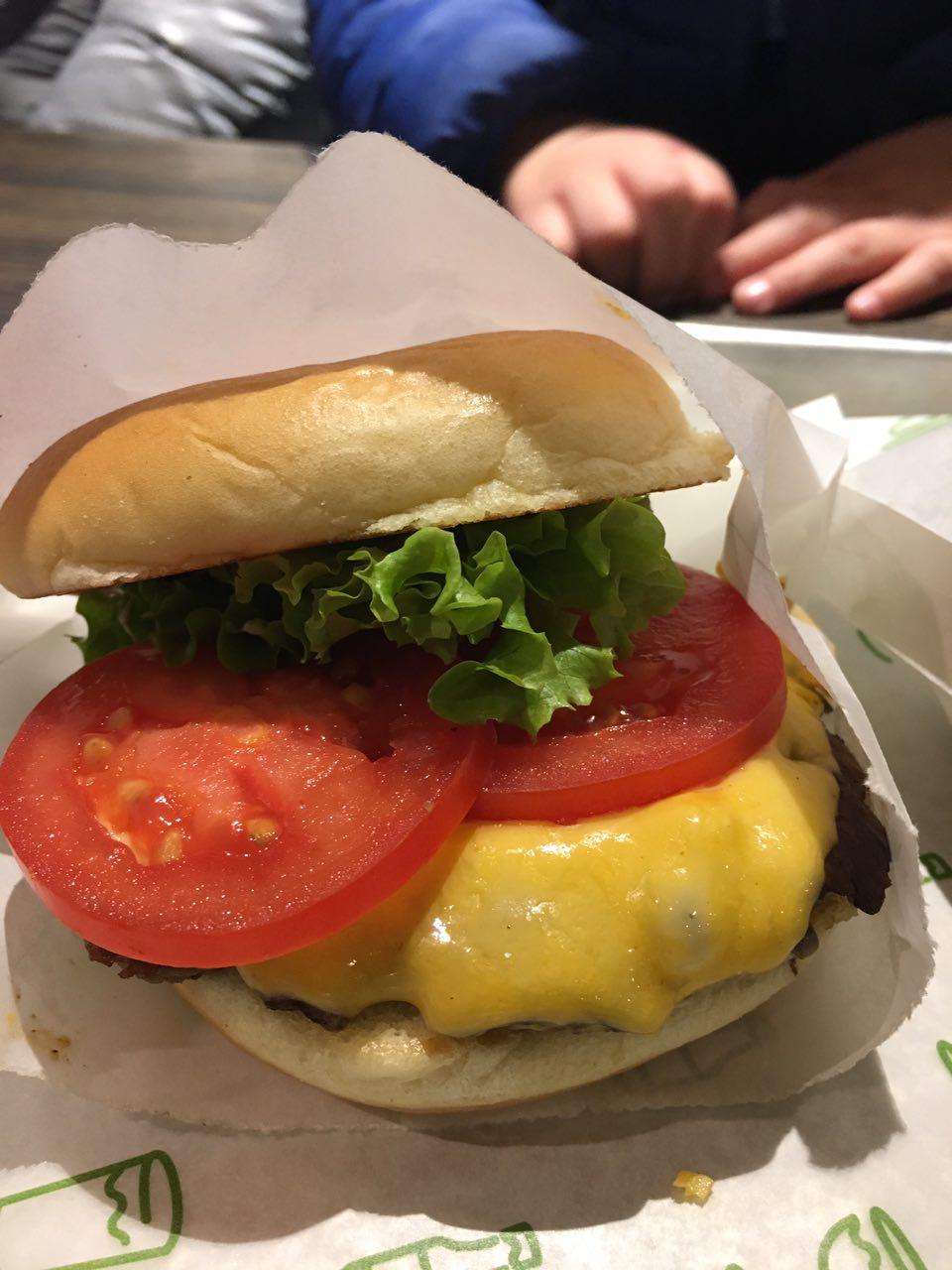 The burgers were Ahhhhhhhh-MAZING, they were really REALLY good. In tagalog, pikit mata sa sarap!! The patties were juicy and the buns were also really good. The toppings weren't scrimped and look at that presentation, nice diba? I would have wanted to get another burger to try but we were already full. I gave Yaya Belen pieces to try, and she also said they were very good, she said it was different from what we are used to in Manila. It was so refreshing to eat this real burger amidst all the Korean food, it was something different and it was really worth it.
We had the kids try the milkshake. It took them a while sipping because the milkshake was so thick. This was already when Kailee was successful in sipping the milkshake. Connor had his first try and it took him more than a minute trying to sip it. I had to sip it for them first. Hahaha!! It was real Matcha, not the really sweet one, but the sweet and bitter Match. It was wonderful.
Finally, I can say – I've tried Shake Shack, and it's truly good! Nothing of those, good just for the sake of saying its good. Masarap talaga. I'm glad that I didn't have to line up, I don't think I'll have the patience to. Hahaha! I hope there will be a next time – maybe in Tokyo? Hahahaha!! I promised myself thought that I won't forget to get the fries next time, and MORE milkshakes! Shake Shack Gangnam Official Facebook Page of Shake Shack Gangnam