Having been introduced to the products of Contadina, I must say that it has made my cooking a LOT easier. I really like how Contadina pastas are easy to make, their sauces are very good too! I so love the flavor and aroma of the Contadina Olive Oils.
So when I was invited to so a supermarket run, I didn't pass up the chance. I am not one to plan a meal – unless, I have this bugging idea in my head for a long time. More often than not, I just wing it. I look at my fridge and pantry, and then think what I can do with those ingredients. I start from there. I don't usually follow a recipe to a T, unless it's really something I want to try for the first time. So while on the supermarket run, I picked up the Contadina products that I thought would help me cook an easy yet very tasty dish. As much as I wanted to research on what to prepare, I thought to myself – well, that's really not my style. Hahahaha!!
After picking up the Contadina products, I proceeded to the meat section. I am a fan of chicken, I really like chicken. I know, I'm boring – but I feel that chicken is very versatile and forgiving. So I picked up a pack of thigh fillets. Then I saw pork tenderloins that were cut thinly! I got this idea of doing a chicken parm with pork in it. So I got about 6 pieces of the pork. I then raced to look for bread crumbs but found only panko bread crumbs – as I said, I'd wing it so I got that too.
It took me a while to prepare the dish – but when I did, it was quite fast. I was amazed how fast I was able to whip it all up – but I did! My yayas were also surprised how fast the dish was prepared. So, tada!!!!!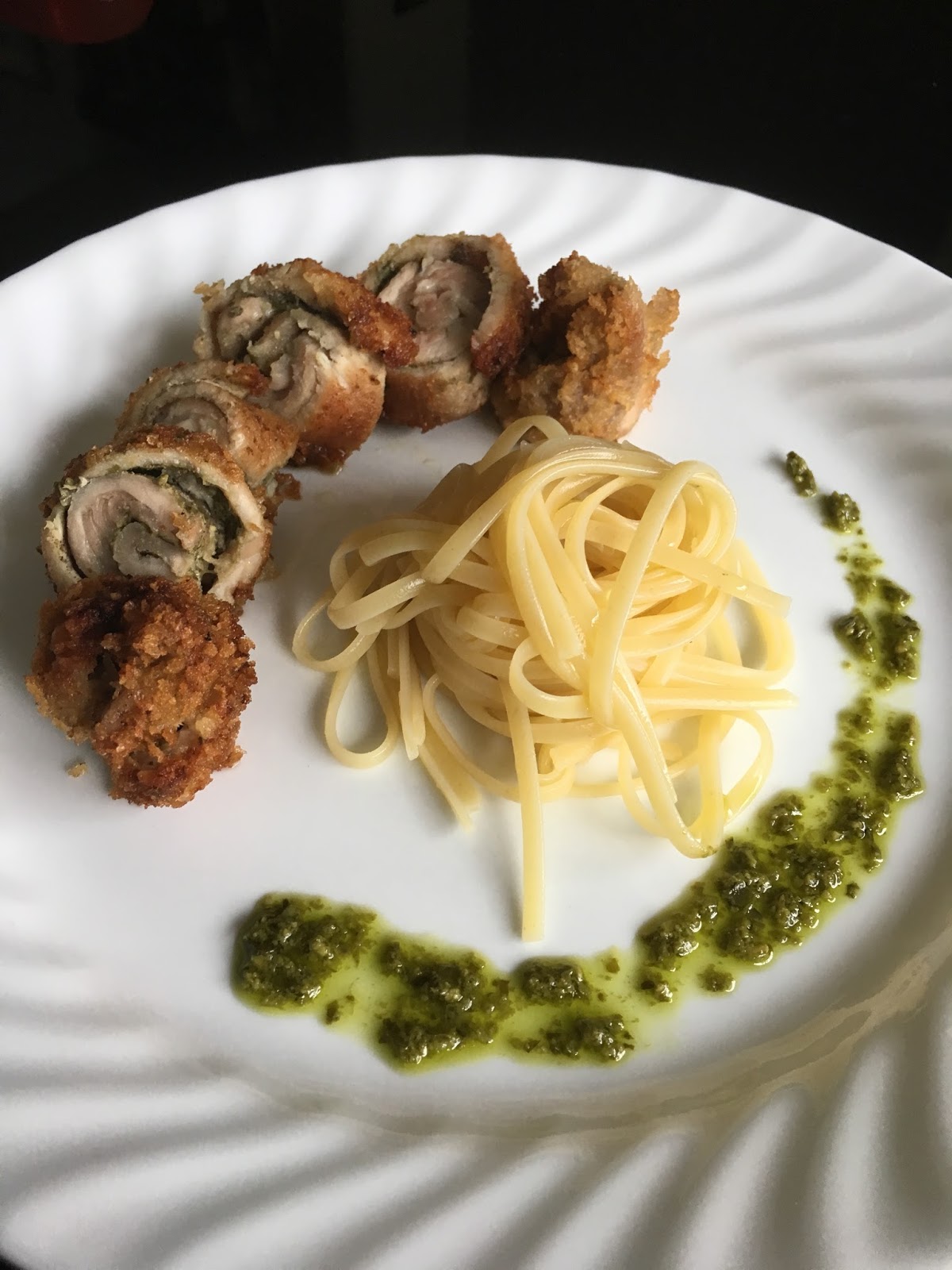 Pesto Pork and Chicken Roll Up with Linguini in Olive Oil
1 piece of Chicken Thigh Fillet (Pounded flat)
1 piece of thin sliced Pork Tenderloin
Contadina Pesto Sauce
Salt and Pepper to taste
Tooth picks (to hold the roll together)
1 Egg (beaten)
1 cup Panko bread crumbs
Contadina Linguine Pasta
Contadina Extra Virgin Olive Oil (for the pasta)
Contadina Pure Olive Oil (for cooking/frying)
1. Pound the Chicken Thigh Fillets
2. On a cutting board (or any clean surface) season the pork and chicken with a bit of salt and pepper. Then first lay out the pork – spread some Pesto Sauce (not to much!) and then lay on top of it, the pounded chicken. Spread some Pesto Sauce on the chicken too.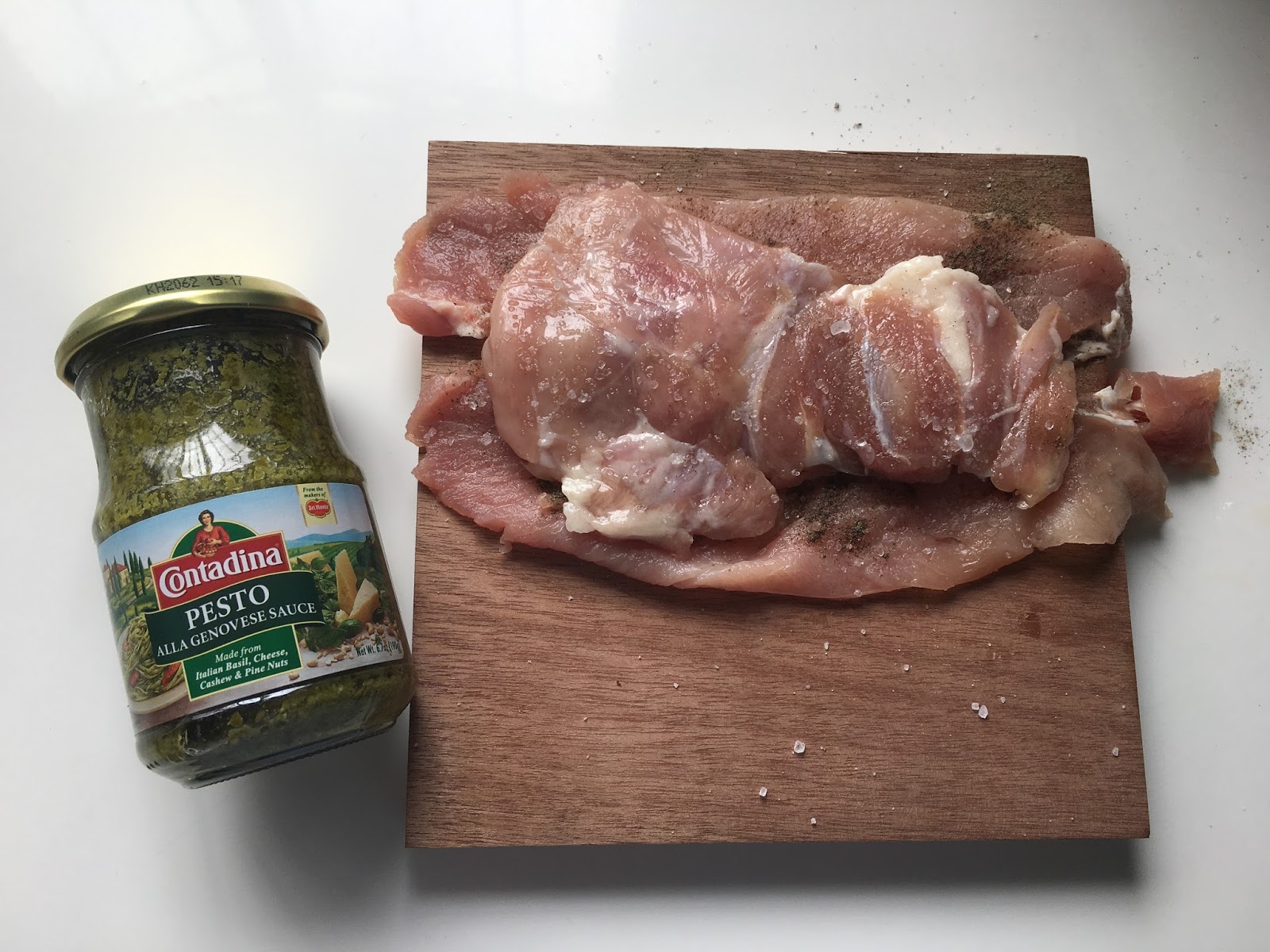 3. Now, here's the tricky part. Rolling up the pork and chicken. You will need toothpicks to hold them in place. So, roll them up and insert toothpicks. (Don't roll up the meat too thick or else you'll have a hard time cooking the insides)
4. Dip the rolled up meat into the egg and then on a plate (spread the Panko or any bread crumbs) roll the egg dipped meat into the panko (or bread crumbs) and coat very well.
5. Pan fry over medium heat the rolled meat with panko until golden brown.
6. On a separate pan, cook the Linquini. I learned from a friend to make the water as salty as sea water. I cook my pasta noodles on a shallow pan, it cooks faster – I learned this on a video in Facebook. Hahaha!! 🙂
7. When the meat is already golden brown, set it aside and slice it the same way in the picture (so you can see the roll) Twirl a fork through the pasta (I learned this from Chef Jayps) and place on a plate. Don't forget to drizzle the Extra Virgin Olive Oil on the linguini!
There you have it! My Contadina Pesto Pork and Chicken Roll Up with Linguini in Olive Oil.
Here's a brief background on Contadina:
With Filipinos fast becoming global citizens evident in the evolving local culinary scene, Del Monte Philippines brings in Contadina, a brand of authentic ingredients that feeds every foodie's passion of re-creating flavours from their travel and food adventures.
Contadina is an Italian word meaning "woman of the fields", which has come to symbolise the care and the quality that women of old poured into the making of savoury dishes. The brand was born in 1914 by three Italian immigrant families in the US.
Originally owned by Del Monte Foods Inc., a company based in California, USA, Contadina is only distributed in the United States and Latin America where it is seen as a high-quality, authentic Italian brand. In these territories, the portfolio is focused on tomato products such as canned tomatoes, tomato sauces & pastes, and pizza sauces. When Del Monte Pacific Limited, Del Monte Philippine's parent company, bought the US business in 2014, they fell in love with the Contadina brand and decided to bring it to the Philippines whilst extending its portfolio of products.
The Contadina line now consists of an array of Mediterranean cuisine essentials – olive oils, canned tomatoes, pasta and pasta sauces, all made of the finest quality, sourced from the world's best-producing regions to deliver truly, authentic flavors.
• Olive Oils (Extra Virgin Olive Oil, Pure Olive Oil)
Made from the fine olives grown in Andalucia, Spain. The aroma is very distinct; one can really smell the notes of freshly-cut greens and fruits. The taste of olives is very pleasant and enhances the flavour of any recipe without overpowering the other ingredients.
• Pasta (Spaghetti, Linguini, Penne)
Made from 100% Canadian Durum Wheat Semolina known for its fine texture and ability to create firm pasta with the right bounciness and golden, creamy color.
• Pasta Sauces (Formaggio, Napoletana, Arrabbiata, Aglio Arrostito, Pesto Alla Genovese)
From Italy, very fresh and flavourful, like they were bottled yesterday use authentic Grana Padano cheese and fresh Italian herbs.
• Canned Tomatoes (Diced Tomatoes, Crushed Tomatoes, Diced Tomatoes with Italian Herbs, Stewed Tomatoes Italian Recipe)
From California, known for producing Roma Tomatoes with juicy and meaty flesh. The cuts, particularly for the Diced and Stewed variants, are very clean and the shape is preserved even after cooking.
Del Monte Philippines Inc. is one of the largest food and beverage brands in the Philippines. We are market leaders in most of the categories we play in – pineapple Juice, Tomato Sauce, Spaghetti Sauce, and Pineapple Solids. The brand and its products are widely known for theirs quality and is a staple in both everyday meals and special occasions.