Whenever I'm out of the country, and it falls on a Sunday – I make sure to research where I can hear Sunday Mass. Two Sundays ago, I was in Tokyo. Last year, I heard Mass in the Franciscan Chapel Center in Rippongi and the community there was so warm. As much as I wanted to hear Mass there, it was a bit of a distance to where I was staying. Researching led me to St. Patrick's Church in Ikebukuro and they have a Mass schedule at 7am. I left our place at 6:40am, I was praying hard to have a taxi swing by where I was standing and true enough, after just saying a short prayer a taxi was there. I gave the address in by 6:55am I was at St. Patrick's Church.
At the courtyard were tables and tents, nuns cleaning and arranging stuff. It looked like they were having an event. I didn't mind it as I was used to those kinds of things here in Manila. I found it odd though, that when I entered the Church, it was still dim. I thought to myself, maybe everything will be opened and people will start coming in at 6:59am. But I was getting a bit worried. I noticed that I was the only one inside the Church, and another man – who went up to the altar. I stood up and walked out to see if there were people coming in, there was none. I looked around and saw a bulletin board – there was a sheet of paper that had the schedules for Sunday Mass. As I looked to my right, the man who went to the altar was there – he was smiling at me. And so I asked him if he spoke English, he said a little bit. So I pointed to the 7:00am schedule of Sunday Mass and he gave me a shake of the head and said *No Mass, bazaar* and then pointed to the tables at the courtyard. He even called a nun to ask (in Japanese) and the nun shook her head too. I asked if he knew a nearby Church – and he said *You know Meguro?*, I shook my head and said I didn't. So I said, thank you to both of them. At that point, I realized that the only Church I knew was far away, but the good thing was that – the mass was at 9:00am, I still had time. I needed help to get to the nearest subway, so I went to look for a nun, and found none. Good thing, the man I spoke to was still there – he was getting ready to head out on his bike – I asked him where the nearest station was. He went into an office to ask someone and then proceeded to tell me to follow him. As I was following him, I thought to myself – that I think God was telling me that I needed to go to the Franciscan Chapel Center to hear Mass. I was thinking, had I just gone to a familiar Church, I wouldn't need to wake up so early. As we were walking, I was thanking him. And then he suddenly blurted *We go together*. I thought to myself, he must really needed to hear Mass early too. So as we were walking, (he was walking fast with his bike on the side and I was trailing behind him) he then motioned for me to sit at the back of his bike. I was shocked and said *Are you sure?* because if you know me and seen me, I'm not small – I'm quite – big. But he insisted. So I did. I sat on the back portion of his bike and held onto his shoulder for support. In my head I was sorry that I weighed so much, because for sure – he had a hard time pedaling. But he still pedaled and pedaled. In the middle of the bike ride, I wondered – where is this man taking me? I blindly trusted him to lead me to a Church. What was I thinking?! And then I thought again – Japanese people are really nice, I'm sure he's not bad. I think the bike ride was about 5- 10 minutes. My thigh muscles were beginning to sore as I was holding both my feet up so I my feet won't drag on the road, I couldn't adjust as if I did, we would immediately fall. We ventured into a small street, he then stopped and I got off the bike, he chained his bike to a bike area and said that we'd ride the train.
I didn't know what station we were at but I prepared money to pay for the train ride. We went to a ticket machine and he punched JPY200.00, so I handed him money but he refused it. He paid for my train ride! We went up an elevator and when we got to the platform he pointed to the sign and said *Ikebukuro Station*. That station was a stop away from where I was staying. A few seconds after the train arrived and we got in. Meguro was not nearby – it was a bit far from Ikebukuro Station. To show you how far it was – here's an image I screen capped from Google Maps.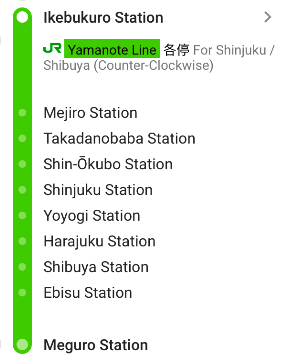 The ride was a bit long but it was okay, I didn't mind it as the mass transport in Japan very efficient. I assumed that the Mass we were hearing was at 7:30am because he was in a bit of a rush. The train ride was about 20-25 minutes and while waiting, he handed me his phone – I took it and saw that on the screen was that Sunday's readings and gospel in English. It was really nice of him, right? There are still good people left in this planet. We reached the Meguro Station at 7:35am I think and while walking, he told me that going back, I would be alone because he needed to go. I assumed this much as he was telling me to remember the route (I assumed so I can trace back where I came from). And we walked, walked fast – until we reached a courtyard. When we entered, he went to the statue of Mary and touched it and did a sign of the cross, he then walked in a Church with me following behind him. We entered a dim empty Church, he then looked at me and pointed to another door. I guess Mass was being said in a different room. And when we entered, it was a small room – and Mass was already being said. I sat down on the first chair that I could see while he sat on another end. I gather, it was already the homily part and since I didn't understand Japanese, I googled parts of a Mass on my phone and silently followed. I read the gospel again it was from Saint Luke 19:1-10. I was thankful for technology that I was able to follow the Mass. After communion, while I was kneeling down to say thanks to the Lord, someone touched my shoulder. It was the man who led me to this Church in Meguro. He said that he needed to leave and waved *bye* to me. But before he left, I asked for his name – it was Benjamin. I then motioned for him to wait because I wanted to take a picture of him – and he obliged. I said my thanks to him and shook his hand. When he left, I closed my eyes and I started crying. I couldn't explain why but I was crying (too bad) I didn't have tissue, so I was wiping my tears using my hands! This is Benjamin.
In a foreign country, where everything is not familiar, one thing is – and that is the goodness in a person. Benjamin didn't know me, we couldn't even have a straight conversation, but he was nice enough to bring me to a Church in Meguro to hear Sunday Mass. The Lord is truly alive in this man. I kept on thinking, why did he choose to help me? He chose to make me ride his bike, he pedaled even if I was heavy, he even paid for my train fare! This man is good, truly good. And that is why I am writing this, to show you who he is and to give thanks to him and the Lord. Thank you Benjamin. You didn't have to help, but you did. Thank you Lord for bringing me an angel to help me get to a Church to give thanks to you. I can now use the hashtag #Blessed because I really was. I encountered a stranger that was an angel. There is still good in this world. Thank you again, Benjamin!