I met my Panget on the street – it was at HV Dela Costa Street on a sidewalk! Hahaha.. I remember it clearly as if it was yesterday. My very good friend Shirley, wanted to introduce me to her cousin – Panget. At that time – I was in a phase of meeting people. In the Chinese-Filipino community, it is known as *kai-siao* – it meant *to introduce* so there, we arranged a dinner-movie double date. I remember that I came from the salon (my monthly haircut – I had pixie cut then) and so they met me on the street, on the side walk of HV dela Costa in think it was infront of the Chili's branch back then. I was surprised because I thought it was only Shirley that was meeting me, it turns out – my Panget tagged along *meeting me* on the street. It was a bit weird to be honest. We then waited for the car to come around and rode it to go to the then *it* place to hang out – Glorietta 4! Hahaha.. We had dinner in a Korean restaurant and then saw the movie *Blade 2*
I don't exactly remember how the conversation started but I learned that my Panget was into Star Wars. With my limited knowledge of Star Wars I asked him the question *If the force was strong in Anakin – why wasn't he 'detected' early on?* I already knew the answer because I asked my friend, Bny who is my best source in Star Wars information he said that *Because Tatooine was too far away and the place wasn't a place where you'd usually find those with the 'force'* It was a trick question – since I already knew the answer. I just wanted to hear what *his* version of the answer was. My Panget just shrugged his shoulders and said that he'd think about it. Hahaha! Corney diba? I thought, Oh well – at least I enjoyed. On that particular *date* I was my talkative self. I was with Shirley – I was very comfortable. And anyone who knows me know that I ask a lot of questions and I feel awkward with silences. The night went on, and I think I enjoyed naman, it wasn't boring – it was okay. There were no immediate sparks. But there was one thought in my head *May salamin nanaman? A guy who wears glasses again?* Hahaha! I don't remember why that thought came out. So I went home that night not thinking if it ended good or bad. I wasn't interested. I think I was in like with someone else (but that someone else was NOT in like with me) I wasn't looking to going into a relationship because in a few months time, I would be leaving to study in Beijing.
A few days after, I got a text from my Panget. He asked Shirley for my number and asked if it was okay for us to *text*, and so we did. I honestly wasn't that keen on developing something. I replied without thinking that anything will progress. The texts went on and he eventually asked me out again. I thought to myself, to just enjoy the attention, no pressure for it to blossom into anything. And so we talked and talked – I enjoyed talking to him. Maybe I enjoyed his different views because he was much older – I think he's the oldest that I've ever been introduced to. So that blossomed into more dates. I guess, I liked him? Because I accepted his invitations to go out. But what triggered the like? Well, he's into books – and I like reading too. He then asked me if I read the book *Love Story* by Erich Segal. I haven't – so he lent me his copy. And the rest they say is history.
Today, my Panget celebrates his 40th birthday. I think I am the one who isn't ready to come to terms with it. He is forever 35 in my head. Hahaha! This past year, he has been saying that he's nearing *Kwarenta* and I never took it seriously. Don't ask me why – but my mind refuses to acknowledge his age. Then, when I really counted – it was only then that I realized that he is indeed turning 40. Wow. But you know what, age is just a number. My Panget doesn't look 40 at all. Well, he looks young – he dresses young (well, he can pull it off) and so you won't think that he's already 40. Him being 40 destroys all of my past impressions of people turning 40 – he doesn't look it, he's very active, he doesn't sport a belly, he doesn't have grey hair, he doesn't put his cellphone on his *belt*, he still wears rubber shoes all the time, and he's *fit* – really. Shempre you will need to believe me on this as I've never posted his face in this blog. Can you believe it? Almost 10 years of blogging and his identity remain anonymous? Hahaha! That was his only directive *You cannot post my picture on your blog* and I have been following that directive ever since. And that is why I call him my Panget – because he used to call me that – and as revenge in this blog – that has been his nickname ever since. When I introduce him to *blog* friends they always say without fail *Ikaw pala si Panget!* Haha.. Revenge…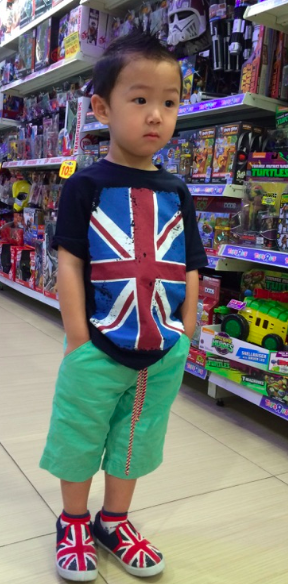 my Panget insists that he looks like Connor.
Well in this particular picture – they do look alike, somehow.
Same expression, same fashion, same stance.
For this particular day – FINE, YOU LOOK LIKE CONNOR!
Hahahha!!
So Happy Happy Birthday to you my Panget. Thank you for the laughter and tears. I wouldn't hate to love you and loved to hate you if it weren't for your usual self. There are times when I want to kick you in the groin, wring your neck, punch you in the face and throw buckets of ice on you when you're sleeping. Even if you make me cry, sad and question my being – well, what can I do – I fell in love with you. Wala naman na akong choice diba? We are exact opposites but somehow work well together when we choose to. Even if you're always nakasimangot, I know that when you make that genuine smile – my heart melts and I will have that loving feeling for you again. Thank you for buying me the bags that I have, hahaha! Thank you for making me eat good food whenever we travel. Thank you for taking the kids to swim, alam mo naman how KJ I am. Thank you for including Kailee whenever we travel and also for taking care of her when I can't (even if this happens ONLY when we travel).
My birthday wish for you? Well, more for me – Hahaha! I wish that you:
a) Smile more when you see me. Nakakabwiset kasi when I greet you with a smile and you give me your simangot face. Nakakawalang gana.
b) Appreciate me more for the things that I am doing for you (without pay!) Utos with LOVE
c) Treat me better and spoil me like you spoil yourself and the kids
d) That you finally get that chance to go to the San Diego Comic Con (and bring me with you)
In all seriousness – I wish you good health, more kayamanan, more LOVE and more birthdays to come. Kahit gusto kitang patayin at times, I can't deny the fact that I love you. Thank you for introducing me to the wonderful world of SCI-FI and geeky-ness. I don't think that you're my soulmate – well, I don't believe in that anymore – but what I believe is that you are there for me and we click and I think that matters a lot. I don't think we'll have a boring conversation together, ever. There are so many things to talk about! Ours is NOT a perfect relationship – but it works out somehow. As long as there are good days, then it's okay. But sana more of the good days than bad, diba? Thank you for enjoying meals with me.
Happy 40th my Panget! Mwah!!
Life begins NOW daw.