When you've lived in a certain city for a long time. Looking for a place to eat is hard – why? Well, for one, you feel like an expert and tell yourself that you've eaten in most of the places you know. What you don't know is that – there are new restaurants sprouting in the area. I admit, I've become complacent on the restaurants in the area – I know my favorites, but what I don't know are the new ones. Take for example – Terrace45! I learned of this new place from my friend who lives in Makati! Ang layo diba?
A few weeks ago, when my Panget and I took Connor out on a date – we were looking for Terrace45. We couldn't find it. Apparently – they're closed on Sundays. So, we were forced to go somewhere else (and it turned out so lousy) Then last week, my Panget decided to try our luck – and since it was a Saturday – perfect!
Terrace 45 isn't hard to find. Just go along Scout Santiago and for sure you'll see the signage. If you're coming from Timog – the restaurant will be on your left, right on the corner of Scout Lozcano. If you're coming from the opposite side – the it will be on your right, just on the street of Scout Lozcano. They have ample parking space (which we loved!) It's well lit and you won't miss the restaurant because of the signage.
I didn't take pictures of the facade (I am always guilty of this) as we were hurrying to meet our reservation time. When we entered the place, it was refreshingly new and well lighted. It was homey – exactly how you'd want your terrace at home to look like. It was clean and I loved that it the interiors were generally white – very clean if you ask me! And you know how much I love clean!
We were seated immediately and given menus – their menu is simple and straightforward. The dishes had descriptions on them and so we didn't have a hard time deciding. I asked a friend ahead of time what to order, and so I had an idea what they were.
Pumpkin Soup
I must say, that this is a different pumpkin soup. It is pumpkin soup but it tasted quite different. I'm sure they added something in it – but I couldn't quite guess what it was. My only nephew Mav loved this so much that he finished a whole bowl!
Ceasar Salad
My Panget, my MIL and SIL all loved this salad. It was very good actually. I like the crispness of the veggies and they didn't scrimp on the salad dressing. It was actually tossed perfectly in the sauce that every piece had enough dressing that you won't need to ask for more.
Pork Rind Poutine
Whats not to love about this dish? Fries – check! Gravy – check! Cheese – check!
Chicharon – check! I never thought this combination would work, but it does! I love how the chicharon added flavor to the fries and gravy also the crunch of the chicharon when you bite into it with the fries! Oh so goood! I wasn't ashamed to finish the last few pieces on the plate! Haha!
Slow Cooked Beef
This was the winner of the night simply because Kailee and Connor loved it so much! I was hoping that the serving was bigger – as I found it hearty enough for sharing. I was very excited to try this but I had to (reluctantly) share it with my kids because they love beef! Hahaha.. The beef was flavored perfectly and slow cooked to perfection as it was sooooo soft! This was easily my favorite and the kids favorite too! You know what I think of when I tasted it? I thought how perfect it would be eaten on a rainy day.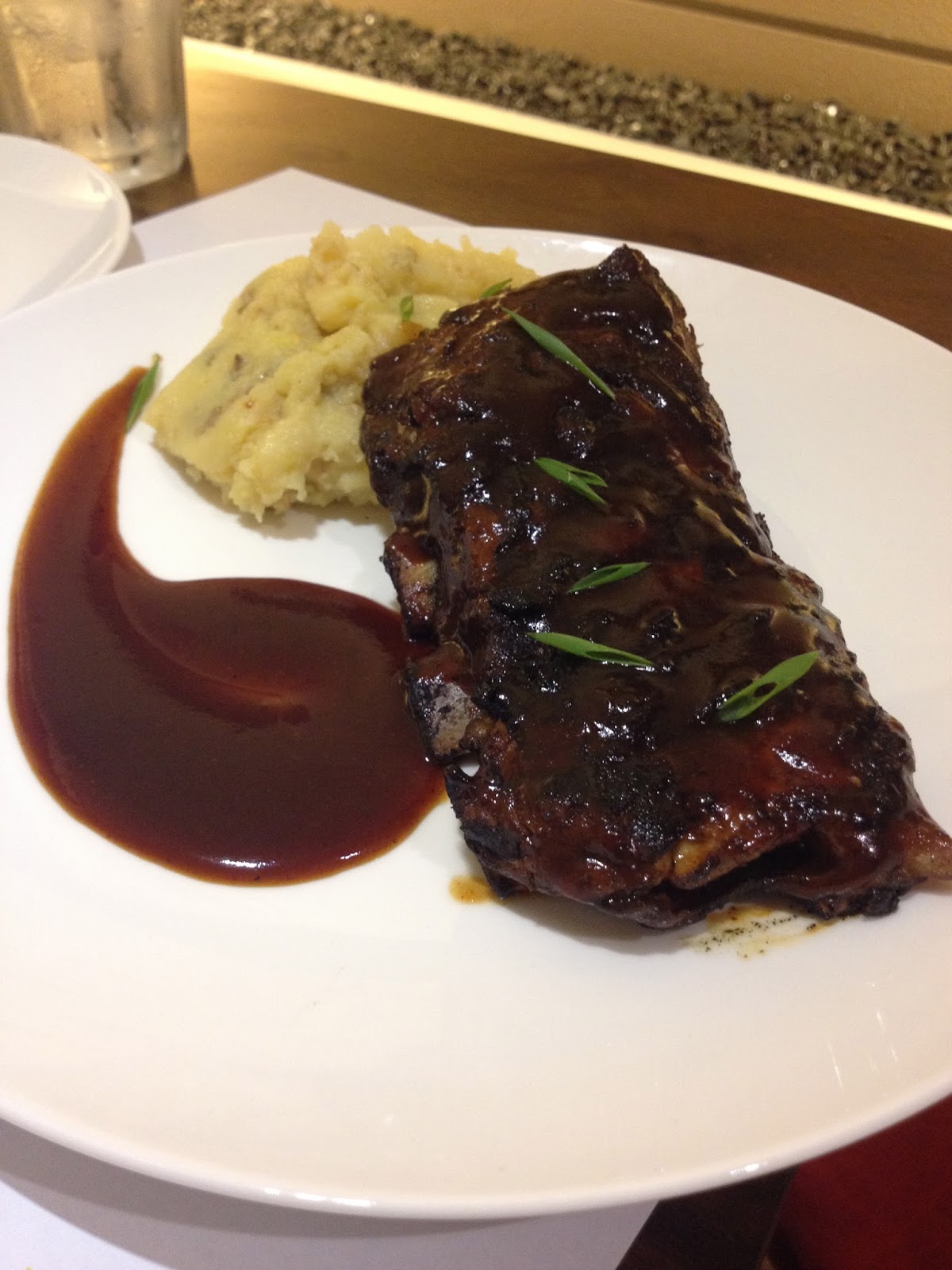 Spice Rubbed Ribs
There was only one complaint from my Panget on this dish – he wanted the ribs to be bigger! A full rack! Yes, the ribs was perfectly seasoned and the meat was very soft that it fell off the bones! It was grilled to perfection (really) and the flavor was just the right amount and not too overpowering. It was very tasty but it was very *bitin* Hahaha!! 🙂 Too bad they did't have a full rack – please have a full rack in the future! Please?
Grilled Pork Chops
I have to be honest, I don't like pork chops! But I was told that this is their best seller. And since my Panget was still hungry (and bitin) from his ribs – we decided to order this. And I tell you, this dish did not disappoint. It was also grilled just right, the meat was very tender and juicy. I've always thought that pork chops in restaurants were overcooked and tough – but this one was quite the opposite. It packed a punch in terms of flavor plus the combination of the dirty rice was amazing! Eat them together and it tastes even better! Hahaha.. I guess that was the trick!
We had a good dinner at Terrace 45 last Saturday. Plus the fact that Connor and my nephew enjoyed playing inside the restaurant – they were having such a grand time that they were squealing in delight. I was thankful that the owners (I assumed they were) were nice and understanding enough with the noise! Hahaha.. I apologized for the noise and they were very friendly and were nice even saying it was alright and found the boys cute. Hahaha!!
I liked it too that the menu isn't pretentious – they serve exactly what is written on the menu. It was simple but as I said – the dishes packed a punch, and I appreciate small restaurants like this. They try and serve hearty meals that is comforting and filling, something that is very rare in the area. Their staff too were impressive as they knew the menu well. Ask them and they can immediately answer – I feel that, that alone says a lot of the establishment, it means they serve from the heart.
So if you're looking for comfort food in the area – try Terrace 45.
We're sure to come back!!
(P.S. I really hope that they make an option of a *to share* size for the Slow Cooked Beef! And also a full rack of the ribs! Hahaha.. Oh! Their white/plain rice is soooo good and really white!!!)
#45 Scout Lozcano Street
corner Scout Santiago
Tel. 374-5486 *We paid for this meal