I love kitchen appliances, who doesn't! Hahaha.. I'm sure there are a handful that don't – but believe me when I say – that kitchen appliances nowadays are functional, efficient and very compact! Kitchen appliances serve one purpose and one purpose alone – and that is to help us prepare meals faster and more efficiently. Gone are the days that you need a complicated equipment just to be able to prepare crepes for your family. It used to be that you'd need a pro crepe maker! But now – look, they have a crepe maker that is very handy and perfect for the home. Crepes everyday? Why not?!
We were then taught to make one – and here I am, in action. Hahaha!!
Making crepes is easy with this Severin Crepe Maker. This retails for P2,195.00 – not bad right? Here are some other Severin products!
This is the Severin Raclette Party Griller (Php1,895.00)
I would have loved this but it would make my home smell a bit stinky because of the raclette cheese!
But it's very sosyal! Hahaha.. 🙂 You can grill meats on the top griller while melting the raclette cheese at the bottom part. Perfect!
Severin Food Mixer Set (Php3,995.00)
If you need a mixer that is functional yet is not very pricey, this is for you!
Severin Style Juicer (Php8,995.00)
So many people are into juicing nowadays and with this more affordable juicer – need I say more?
You can slow juice all you can at home!!
This is Bev, she is the managing partner of Colombo Philippines, the official distributor
of Severin and Braun products here in the Philippines. Here she is introducing us to her company, their history and the brands they are currently carrying.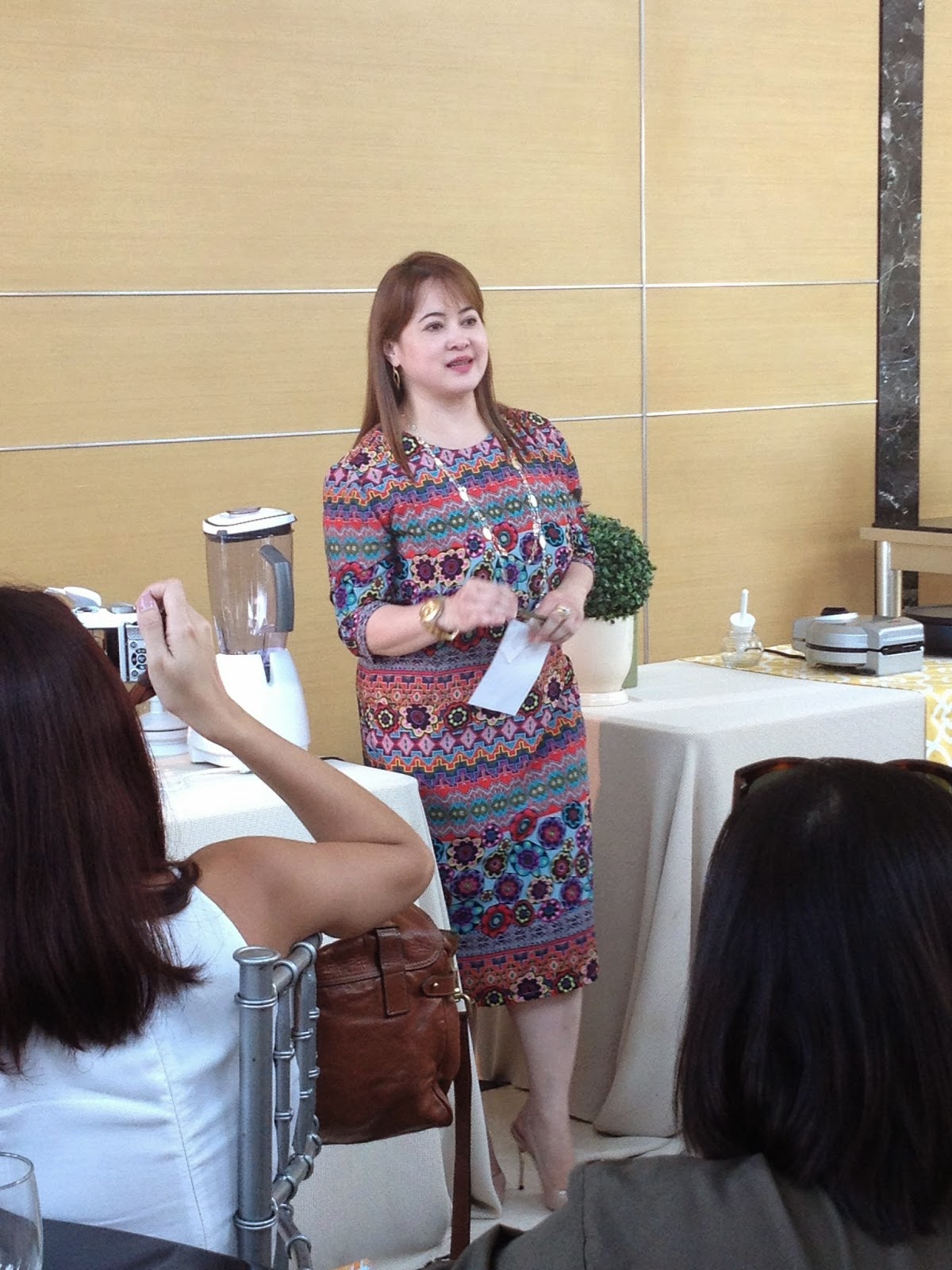 We were treated to a cooking demo using the latest appliances from Severin and Braun (the correct pronunciation is Brown! I bet you didn't know that!). I personally own an Braun coffee maker, it was a gift to me and Panget when we got married. We used it every weekend – it's easy to clean and durable. I am very happy with that product. I've known the brand Braun for a long time, but mainly because it's the brand of our trusty ear thermometer. I remember when I first saw the brand in 1996 – my mom came home from the US with this, she delightfully showed us how easy it was to use! I'm glad that the kitchen appliances such as Braun and Severin are priced reasonably. It makes consumers want to go ahead and buy them! So, to more afternoon bites, dinner parties, crepes made easy, gourmet food right at your finger tips – look for Severin and Braun kitchen appliances! They will surely make entertaining your friends and family delightful and easy! Head on to your nearest appliance center and check out the extensive products of Braun and Severin.
Braun Food Processor (Php8,795.00)
It was so nice to know that the function of this food processor remains the same through the years! The design they say has maintained – so imagine the functionality and the brilliance of this product when it was first made! My aunt has had this product for more than 25 years and she still swears by it, her only issue is that she needs an AVR to operate it because she got in the US years ago. But the still, it's working fine and doing its job in helper her cook and prepare food. That is what you call QUALITY product!
Mutliquick 3 Citrus Juicer (Php1,995.00)
This makes juicing oranges hassle free! All you need to do is cut the orange in half and press on the juicer! It's quick, easy, healthy and fresh! It has a strainer to keep seeds away! Plus it has an automatic on-off function! Press it down, it turns on. Let off of the pressure and it stops! It's very safe for kids to use! So think about this product when you have an activity with your child! They can juice an orange on their own as this doesn't have any sharp edges. Perfect right?!!
Braun Multiquick 3 Hand Blender (Php3,695.00)
Ever since I can remember, I have been dreaming to own a product like this! I remember first seeing it while watching Capreal's Cafe on TV when she chef would submerge this hand blender on a cooking pan! I was impressed that it could still do its job in the middle of a cooking process. So for years, it was always a dream. But now, it's a reality – I won this prize! It was really meant to be. I will make an entry while I use it this weekend.
What's great about this is that it's a multi-function hand blender. You can see that it has more than one use! I am so excited to try it out this weekend! Yahooo!!
Thank you Mish and Bev of Colombo Merchant Philippines!!