French food they say is the very good. I honestly don't remember being blown away when I ate steak in Lille, but I was young then – but it was very good! I was told by my friend Cubie to make sure to have an authentic French meal. She reminded me of this during the trip.
On our first night in Paris, we decided to look for the restaurant that was recommended by our Airbnb host. The restaurant is called Le Beaumarchais – it's french bistro that serves quality food (according to our host Delphine) the ingredients are fresh, the staff is friendly and the price is not so expensive. Plus – it's just a few minutes walk from our place. We decided to give it a try and walked to the bistro.
When we got there, the place was starting to get full. We were greeted by a staff – I was surprised that he was nice and accommodating. We then told him that we were the guests of Delphine – his face lit up immediately and showed us to a quiet corner. He saw that we had a child in tow and he told us to stay in a more private part of the restaurant. We were then given menus, we were very hungry thus we ordered a foie gras appetizer, a duck dish for my Panget and a veal for me.
Half cooked Duck Foie Gras(EUR13.00)
Would you believe that Kailee wanted to try this out? Yes, and she asked for more!
I was so impressed with Kailee – I'm excited for her to try French cuisine! Yey!
Veal Steak, Gravy & Roasted Green Asparagus (EUR19.00)
This is what I got, it was very tender, tasty and a good portion. Kailee took a few bites of this and loved it. The roasted green asparagus was soooo good! I don't usually have asparagus, but this one – I ate them all, I mean ALL of them!!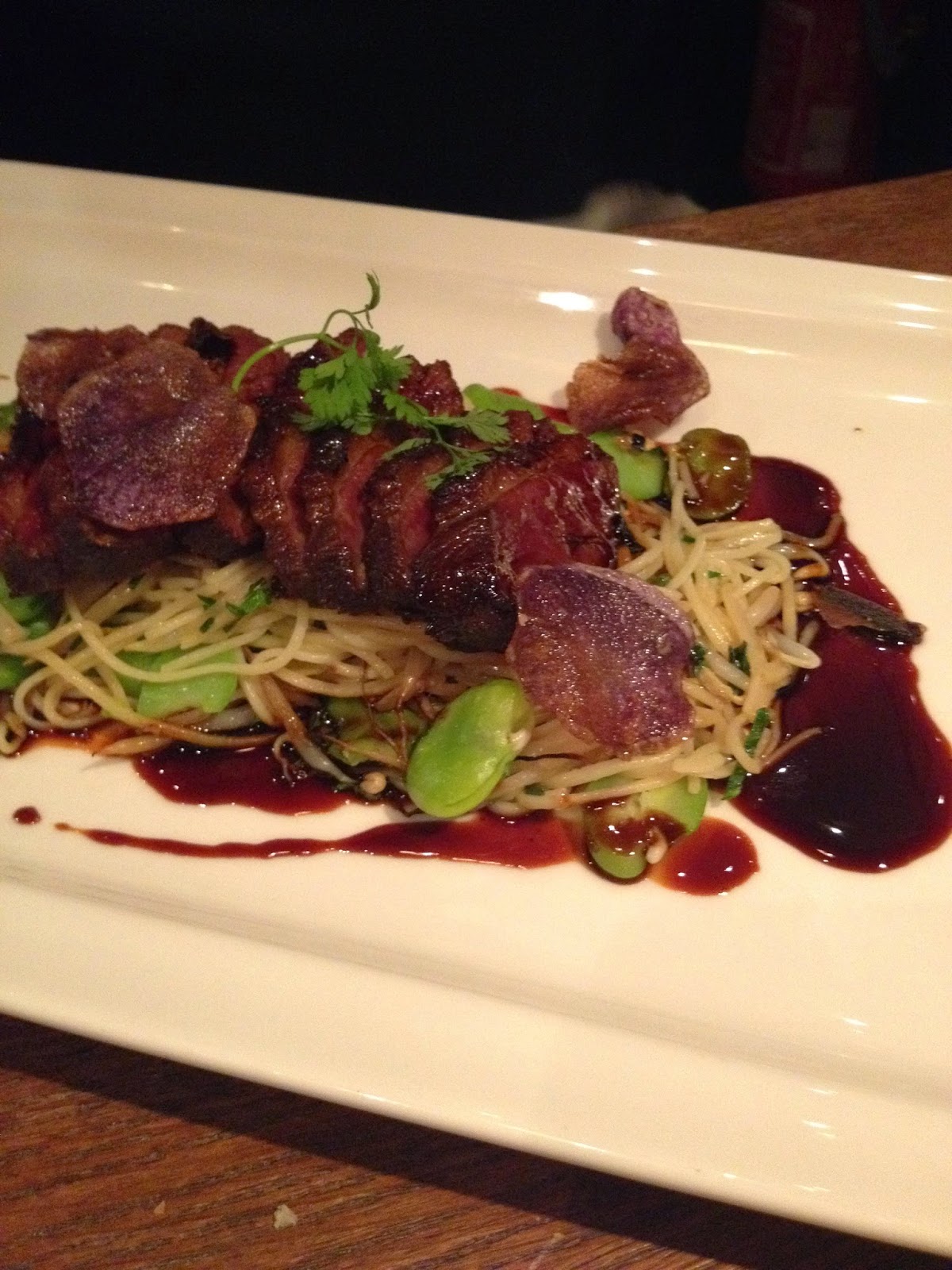 Duck Breast 'The Little House' in Kampot Pepper, Soy and wok fried Noodles (EUR16.00)
This was soooo good that Kailee was literally asking for more. The taste is salty and sweet and something that I can't explain. It was so flavorful that my Panget declared the best meal of his trip so far. The noodles were a surprise, we didn't notice that the menu said noodles, but it was a welcome change and balance to the taste of the dish.
We had such a wonderful dinner. My first French meal was so good that I was excited to eat the rest of the trip. I didn't have expectations so this one was a good surprise to me and my Panget.
Le Beaumarchais
Website: Le Beaumarchais
Bastille, Paris