It has been a while since I last visited Fisher Mall. I remember being turned off by the mall since they charged for parking and there wasn't a grace period. I think it was August 1 – and I was very willing to buy movie tickets because I knew that parking was free. Lo and behold – it wasn't anymore – and they didn't have any grace period of sorts. So imagine – I just went to buy tickets and I had to pay for parking – and then again when we go to watch the movie, we will need to pay for parking. Grrrr… To my surprise there were new restaurants! And one of them was Truly Asia. Upon entering the parking area, you'd see ads of Truly Asia and then again near the elevators and escalators. So my Panget was curious – so we walked around and found it. I wasn't in the the mood to pick a restaurant so it was my Panget who looked at the menu. He learned from the host that this restaurant is owned by the mall owners (same as Morita) and so he assumed that it would be okay. I was doubtful.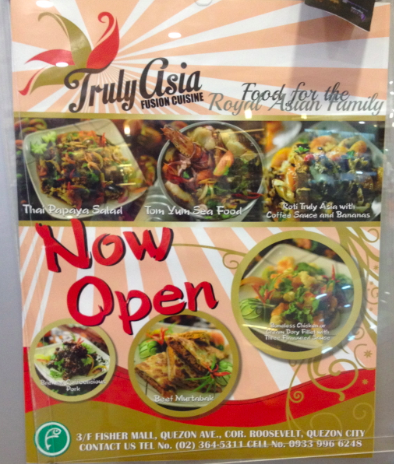 When we entered the restaurant, I told my Panget I wasn't confident on the quality of the food, as there were a few diners. We were given the liberty to choose our table and we got one that was near the kitchen. The menu was fairly simple – and we ordered a noodle dish, a meat dish and a seafood dish. I saw that they served Teh Tarik – so I ordered a hot Teh Tarik.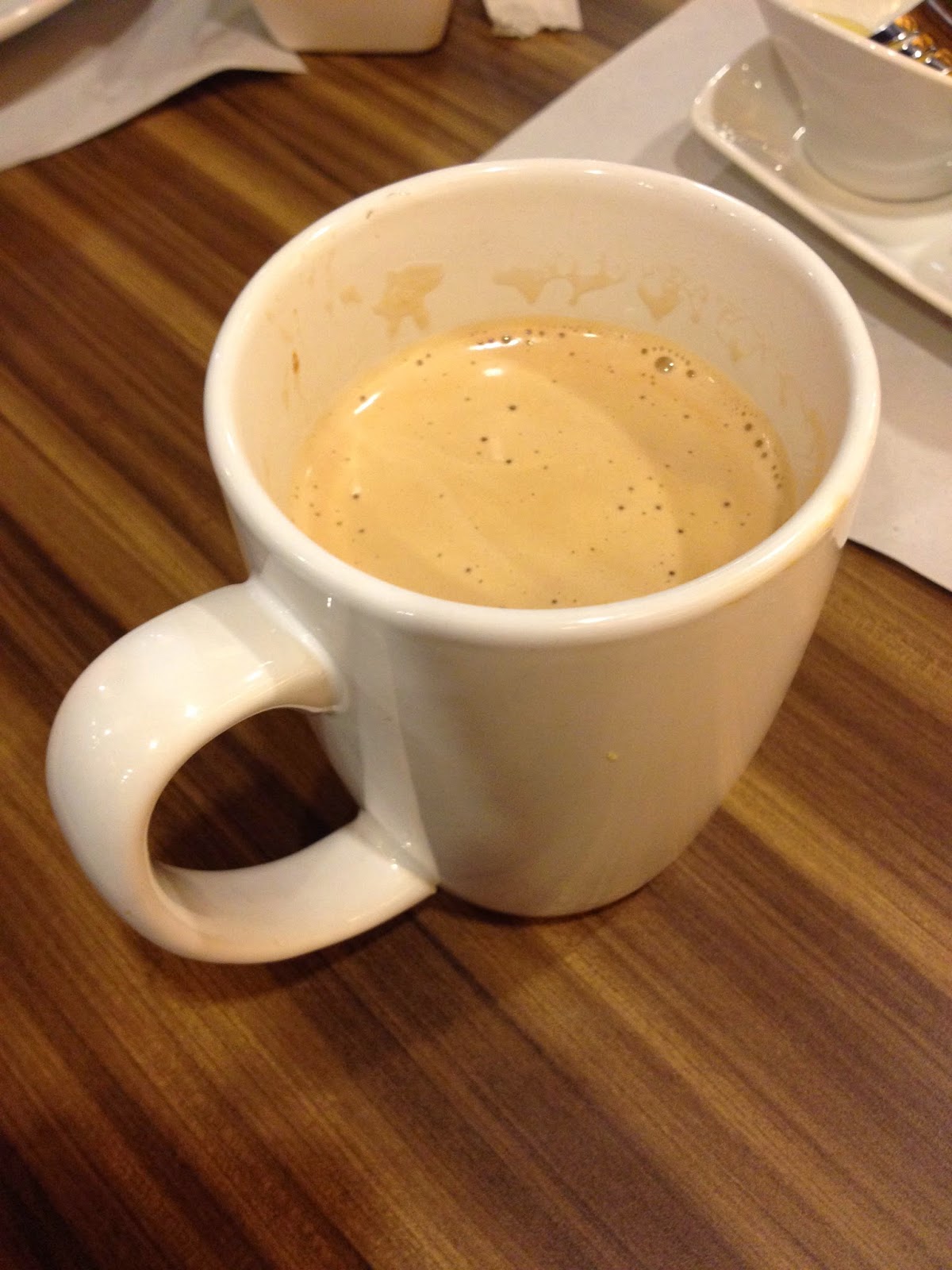 I know it doesn't look much – but man, was it good! I mean really good. I was impressed – I told my Panget that this Teh Tarik was the real thing. My Panget tried it and he liked it too! I like that I could still taste the tea and it wasn't very sweet. I said to myself that at least, there was something good out of this restaurant. A few minutes later, a man from the kitchen went out and was shaking hands with some of the diners – I assumed that he was the chef even if he was dressed so very casually. On his way back to the kitchen he stopped by our table and introduced himself – he is Alvin (this is what I heard, but I may be wrong) and that he was the chef – and so I told him how happy I was with the Teh Tarik – and he smiled thanking my compliment – I told him that I was really happy with the Teh Tarik because it was the real thing. The chef is Malaysian and he was telling us that he was making sort of an Asian fusion in this place – he was combining Asian flavors and dishes. After speaking to him – I told my Panget that I was expecting our orders to be good. And they were.
This is a really flavorful noodle dish. I think its called Seafood Hokkien Noodles (I was so hungry that I couldn't remember the exact name. This was really good because the ingredients weren't scrimped. See the shrimp? Yes, there were about 3-4 pieces of them – and they were fresh.
This is the pork dish that was served cold. Even if it was a cold – the skin was oh-so crispy! It wasn't too fatty too! Kailee loved this. This dish came with 3 different sauces and OMG they were all so good! I couldn't help asking for more!
My Panget has this love affair with salted egg- and this dish was Salted Egg Squid.
I have to say that this is the first time for me to encounter salted egg combined with squid – and it was so very good! It was different alright, but very very good! I liked it that the squid didn't taste malansa! This was my Panget's favorite.
I have to say – I judged the book – and I was so wrong. So very very wrong. We enjoyed our meal and all our orders were actually very good! I would definitely go back to try the other dishes. At last, there is at least one restaurant in Fisher Mall that I will look forward to. Yey! I just hope they will be able to sustain the flavor of the dishes and remain authentic.