We are definitely late bloomers. I have to confess, when I saw that people were going gaga over Frozen. I didn't want anything to do with it. I thought that it was just another 'fairy tale' movie. And I wanted my daughter not to have the damsel in distress attitude and so I skipped the whole Frozen craze. But then one night (I think it was February), my Panget suddenly announced what we were to watch that night on TV. He said we were going to watch 'Frozen'. Darnit! I told my Panget that I didn't want the 'princess' thing! But we had no choice – the kids were glued on the TV.
After watching 'Frozen' I realized that I assumed wrong on the princess thing. Disney was able to move past the damsel in 'distress I need a prince' thing and was able to make a wonderful story about sisters and their love for each other. I now know why it was such a phenomenon!
For the weeks and months that passed – it was a Frozen Fever for Kailee. She wanted to watch the movie over and over again. She wanted things that had Elsa & Anna on them. One weekend, we went to a mall to buy Kailee a Frozen toy. We went to all the toy stores and there was none! There was no Frozen merchandise anywhere! It was so weird!
While in Osaka we were also looking for Frozen stuff – and would you believe there was none? Even in the Disney store in Shinsaibashi? There was nothing with Frozen – as in nothing! No Frozen merchandise. So that trip, my Panget ended up in buying an Ariel doll for Kailee.
Last week, while in Hong Kong we were also looking for Frozen stuffs. We saw a few but they were very expensive. I saw this Elsa wig:
This Anna wig costs HKD199.00 !!
Whoa?! Right? But this was the last box on the shelf!
As you can see the Dancing Olaf is priced at HKD279.90! Expensive right?
We were very disappointed because we really wanted to get something Frozen for Kailee. And then I got a text from a friend Candy – she told me that there were plush (stuff toy like) Frozen dolls at the Disney Store in the airport! She told me where to find them. So we really went to the airport early – just to be able to spot them and I am very happy that we did! Here they are: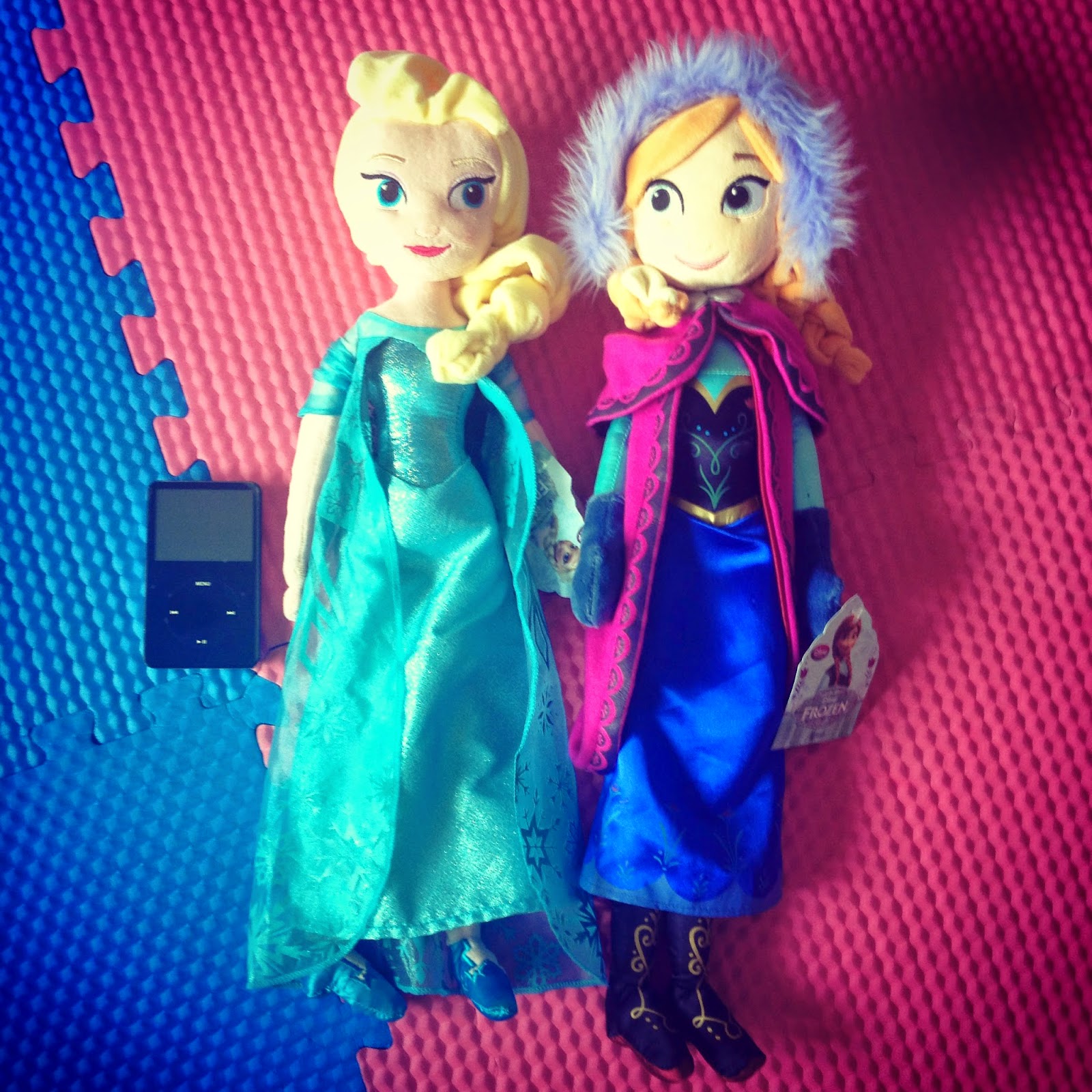 I put the iPod beside it so you can see how big the plush dolls are. We bought them at HKD258.00 (P1,500.00) each, so for a pair it costs HKD516.00 (P3,000.00). It's quite expensive if you ask me, but then come to think of it – a Barbie doll costs at least P1,000.00 and these are huggable ones and are very soft!
So thankful that we have a pair of them! MISSION ACCOMPLISHED!!
Just a note, there are resellers of course. I have a friend who is selling them at P4,000.00 for a pair (Elsa&Anna) I think the price is very reasonable already because these resellers took time out to buy them and bring them home. Beats having to pay a plane ticket just to buy them right? At least these ones are readily available. In my personal opinion – an amount more than P4,000.00 should be considered expensive already. What do you think?