Diaper Rash creams – well, I hate them – why? Because they're so sticky as hell and its so hard to remove from your fingers and hands!
When Kailee was born – I used Vaseline's petroleum jelly for babies because it was recommended by a friend. But in a month's time, I had to switch to Desitin because Kailee developed a rash in the bum. I remember it as if it was yesterday because the Desitin I received from my friend smelled so bad. I even asked her if it was normal – and being a first time mom, I guess we thought it was normal. I had no choice but to use it on her – and it was effective, but it was such a hassle to put and remove! When that ran out, I asked my sister in law Sasa to buy me a tube of Desitin, and I was happy that the scent was nicer. But there was still the problem of the stickiness. I really hated that. Whenever we put it on Kailee, there was always the problem of cleaning it off our fingers and cleaning off her bum every time you change diapers – very messy!
So every time we travel, I make sure to bring diaper rash cream. I do not like to be in compromising situations thus I need to come prepared. For the past year, I have been bringing with me Desitin, its such a hassle because what I got were packaged in a big pot, so I still need to transfer its contents to a smaller pot, just so to make it handy. And again the problem – the icky feeling of cleaning it off my fingers and her bum. I hate the mess it makes, I dislike the hassle of using so much wipes just to clean it off and then re-applying! I swear, this is the task I hate the most because of the mess it makes and the hassle to take it
Grandma El's Diaper Rash Remedy+Prevention – P465.00
As I mentioned previously – Vanessa sent me Grandma El's stuff to try on my kids. She sent me a tube of Grandma El's Diaper Rash Remedy+Prevention. It was perfect timing because we were off to Subic a few days after. But while in Subic, I never got to use it.
I brought it with me to Osaka because it was small and handy. I didn't need to transfer the contents, I just had to bring the whole tube. On our second day in Osaka, I noticed some redness in Kailee's bum. She's already toilet trained mind you, but yet there was a redness – so as a precaution, I had to apply some on her bum.
Grandma El's is a breath of fresh air. Its very easy to use! Just press on the tube lightly and the product will immediately come out. It has the perfect consistency – it looks like petroleum jelly but doesn't have its heaviness. Its spreads easily as Desitin but is not as messy. It glides on the skin and leaves a very thin film on the area. Its not gooey and not sticky. I noticed too that a little product goes a long way! It has a very light scent that doesn't overpower. Its very light on the skin too! And my favorite part – its very easy to clean! Actually, since Osaka was cold, I didn't mind spreading whats left of the products on the dry spots of my hands. Yes – it was that light, that I didn't mind! The skin absorbs the product and yet you see the thin layer of film protecting the skin. I was really impressed with the product! After a few hours, I checked Kailee's bum it was still okay – the skin absorbed the product! You know that the product is still there and doing its job protecting her bum!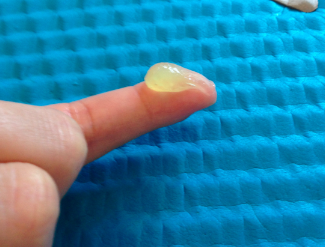 If you're looking for a diaper rash cream that isn't messy or stinky and is easy to apply then, I recommend you try this product! Its really very very good! Try it to see! This product will change the dynamics in your diaper changing routine, I swear – you'll love it!
For those who like to know the ingredients, here is the back portion of Grandma El's Diaper Rash Remedy+Prevention.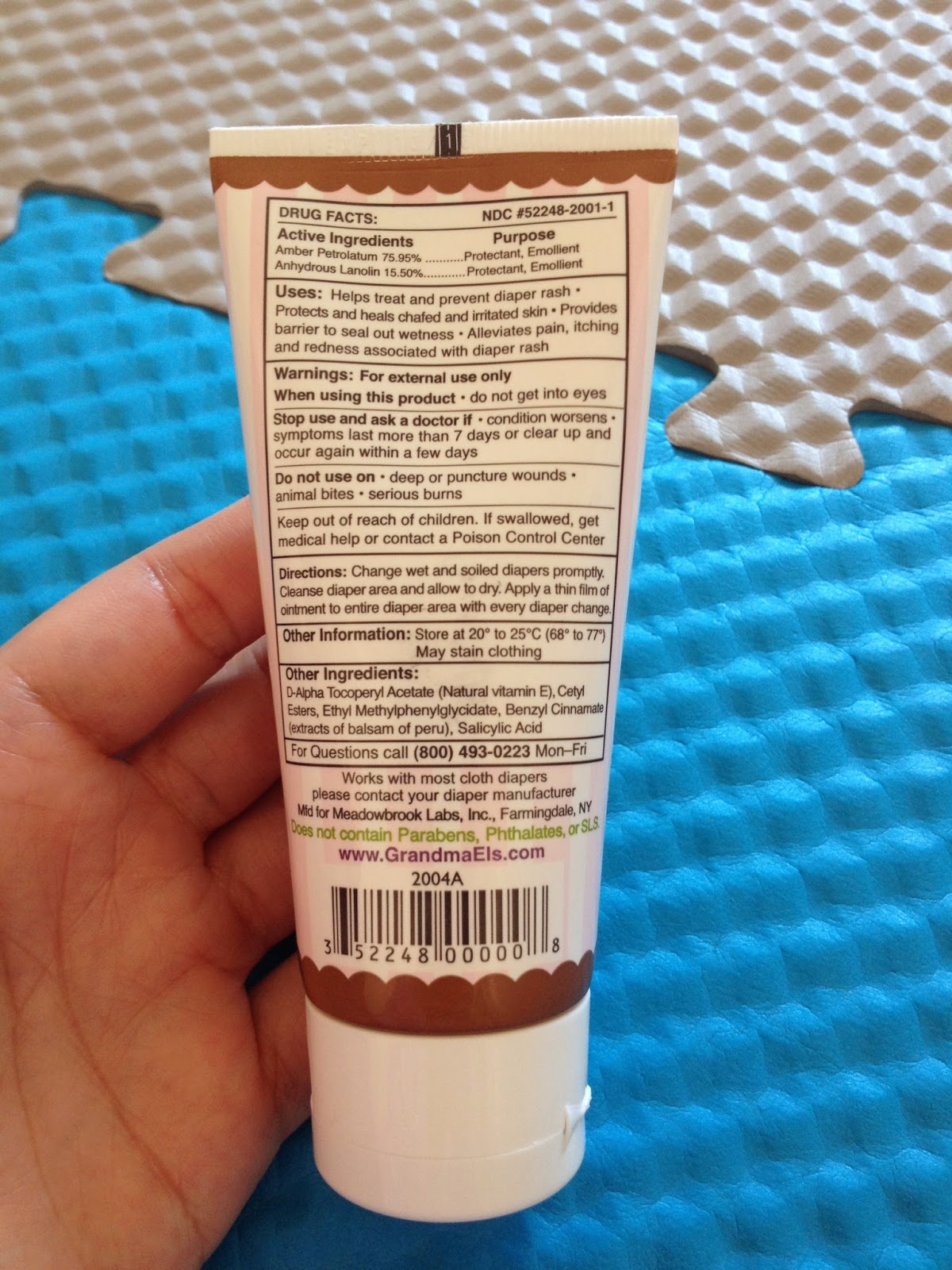 Grandma El's is distrubuted by Boderless Exchange and is available in Rustan's and Babyland stores.