I think I found a new favorite cupcake!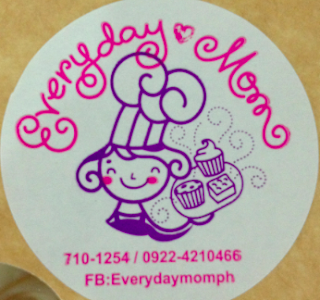 Been passing by this place called Everyday Mom, whenever I went on my every other week pedi session but always forget to actually drop in! I openly wondered why it opened there, right beside Wheatberry and Max's Chicken. Then a cousin in law of mine said that their breads are yum! Since my nail salon is a few meters away, I finally decided to buy some, on the way home with my Panget.
It was raining last Saturday so I was in a hurry. I just got a box of 6 and picked 3 flavors – the Cafe Mocha, Choco Banana and the Carrot Cake.
I had to make sure to take a picture before I tried it because it looked so perfect! Self control!! I had to take a bite to see what the fuss was all about and the verdict? These were the SOFTEST cupcakes EVER!!!
The Cafe Mocha was IT for me! I liked it the best among the three flavors. I am not a fan of bananas in pastries so my second best was the Carrot Cake. The Choco Banana was also good, my Panget liked it a lot, but it wasn't for my taste buds.
These cupcakes are reasonably priced at P40.00 each. Good news is that the Cafe Mocha cupcakes also comes in a square cake! So, for more Cafe Mocha cupcake goodness, I think I'll get the square cake next time!
This little quaint place serves up big big flavors. I'm sure to visit soon!


Everyday Mom
Scout Tuason Street
near corner A.Roces,
Quezon City
(they've got over 9,000 likes! Whoa?!)