Here are some of Starbucks' NEW Food Items! 🙂
They're all so excitingly GOOD! 🙂
Mocha Silvanas (P95.00)
My panget is such a HUGE fan of Silvanas and this tastes absolutely AMAZING,
plus the size is to share!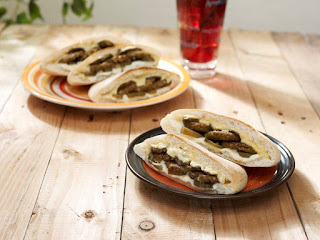 Falafel on Pita Bread (P150.00)
I LOVE middle eastern food and Falafel is something I've only heard and seen on TV!
Thank you Starbucks for offering it, now I can FINALLY have a taste! 🙂
Roasted Chicken Pesto and Shitake Mushroom on Flatbread (P155.00)
This is one of my FAVORITE sandwiches from Starbucks and I'm so happy that its returning!
Yehey! 🙂 The combination of the roasted chicken and the shitake mushroom is so yummy that one (1) sandwich for me is NOT enough! And yes, you read that right – I need two! I'm eating for two you know! Hahaha… 🙂
And here's something to look forward to – every Mondays of August!