I've been to Shinjuko so many times when I was still younger. I remember my aunts and uncles taking us there after watching a movie in Greenbelt 1. I would always order the fried rice and chicken teppan. It was only 5 years ago, that I learned that they also served ramen! How silly right? Well, I'm the type of person who orders the same thing in a restaurant – since I like certain dishes, why deviate right?
There was a time that a Shinjuko branch opened along West Avenue in Quezon City. I think I was able to visit once – but then it closed down before I could visit again. Last year, I remember seeing a closed down Shinjuko – I was sad, but was told that they were just having renovations done – and that they still have another branch in Makati – at the creekside area.
So yesterday – we went to the Power Plant Mall to take Kailee out, as it was a Sunday – it's Kailee's day out! It seemed like most Sundays – we've been having early dinners! So yesterday, my Panget was thinking of trying Ukokei Ramen – unfortunately, it was closed. So the nearest ramen place that I could think of was – Shinjuko.
When we parked – we instantly noticed that the place was newly renovated. The restaurant was very well lit and looked super clean! Upon entering – I noticed that it the AC was on full blast! Plus points for this restaurant! Since Kailee has skin asthma – we've been very anal on the AC of restaurants that we have going to.
The menu was simple – it consisted of ramens, udons, donburis, and teppan. Basically the same things that were already on the menu years before except for a few additional new dishes. My Panget got the Beef Ramen – in the picture it looked good. I ordered a chicken terriyaki and a bowl of rice for Yaya, while I – I had the Chicken Ramen.
Beef Ramen P275.00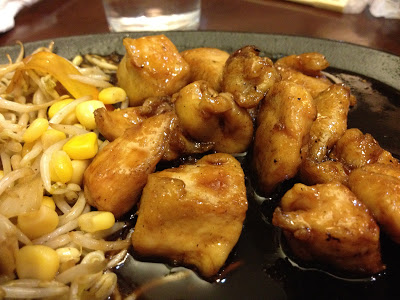 Chicken Terriyaki P330.00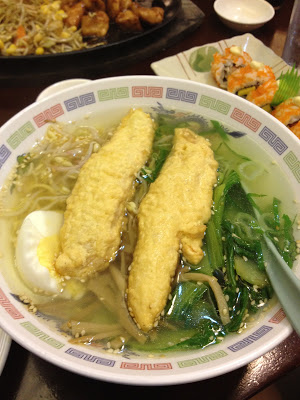 Chicken Ramen P250.00
The runaway winners were the Beef Ramen and the Chicken Terriyaki. The Beef Ramen was very flavorful – we asked the waitress for an additional cup of beef soup for Kailee – they willing obliged without question. Kailee loved the ramen so much that we had to give her from time to time! Yaya said that the taste of the terriyaki was good but the chicken was a bit tough. The Chicken Ramen was so-so, the soup though was very simple and clean.
The staff is very friendly and attentive, upon entering the restaurant – they already offered a high chair for Kailee to use – its another plus point for us! Yey!
Shinjuko
Makati Avenue