Starbucks has launched their BLONDE coffee!
During the launch were were schooled by a coffee master on the different roasts Blonde, Medium, and Dark Roasts! Plus – we samples their new food items! There's one exciting thing that I learned – they're bringing back the FRENCH TOAST! Oh my gosh – when I learned of this, I was ECSTATIC!!
The Blonde Roast is very different from what I imagined. Haha!! I thought it was going to be lighter, and it was – but what struck me was that it tasted a little – tangy and – sour! I mean, it tasted a bit odd at first, but when you add some whip cream and syrup to it – its actually, not that bad! Its a different offering for coffee lovers – a definite new thing to try in Starbucks. I'm sure there will be a LOT of new fans!
I'm very excited for the new food items they have new sandwiches AND salads! Here are a few of my favorites!
Italiano Combo on Focaccia Bread
So much meat in one sandwich! Smoked Turkey, Roast Beef, Smoked Ham, Turkey Lyoner and so much more meat! (I just have to repeat it!) Its really really GOOD! Definitely my FAVORITE!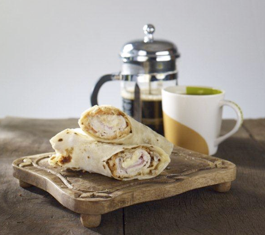 Chicken Cordon Bleu Wrap
Its an actual Chicken Cordon Blue – in a wrap! Cool right? Not so messy and very easy to handle and eat!!
Moroccan Chicken Couscous Salad
I love couscous and I love Moroccan spices! And so this is such a perfect salad for me! It sooooo yummy! I wanted seconds but was too shy to ask!!
Thank you Starbucks!!