Two Sundays ago was my first time at Mercato Centrale @ BGC. We bumped into a HS kabarkada K, she told us to invite the rest of the gang to have lunch the following Sunday. And yesterday, we did meet – but since there was no place to sit, we headed to walking distance Serendra for a late lunch.
While waiting for the rest of the gang to arrive, we walked the tents – discovered that the lay-out was different from the previous week! I am not sure if it was just me, but I think there were new concessionaires around. Here are the things that we bought:


Grandma's Cornflake Cookies
I like my cookies chewy. Most of the cookies being sold during this time of the year are all crispy and crunchy. Unfortunately, I am not fond of them – and so when I heard the words 'Try our chewy cookies!' Boom, I was intrigued! I got a sample and my, was it perfectly chewy! I asked my Panget to try it and he said it was good. Being an impulsive food buyer at bazaars, I thought to be more careful this time. I made sure to remember where the booth was located because I had a feeling that my Panget will be back. And just after a few minutes – we were, we bought a pack of a dozen cookies which cost P130.00. The nice people selling them told us to leave the lid open if we wanted chewy cookies, and to keep the lid closed if we wanted crunchy ones.
Chorizo Bilbao
We bought a pack during our first visit. My Panget loved it so much that we had to buy another pack. This time, we got the spicy one.
Lasang Langit
My mom loves breads and I think I got it from her my fascination with breads. There was this really nice and cheery guy who asked me to try their cheese bread. And since I am a sucker for breads – I tried it out. And the cheese bread tasted so good! He then said that one long piece is only P100.00! Okay, when I heard that it was only P100.00 – I was instantly sold! But then he told me 'We're sold out of the Cheese bread na..' Darnit! But wait – I had to ask, if they had any piece left! And luckily for me, they did! Talk about meant to be! I got the last piece of the cheese bread! I had it this morning for breakfast and it was so yummy that I consumed almost half of the loaf! Hahaha…
Manang's Chicken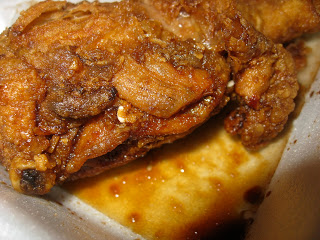 While wading through the cooked food stalls, I saw this red sign that said Manang's, it has a tag line at the table that said 'Like Bonchon's, try Manangs!' I was actually laughing because, I thought it was such a great idea! I mean, I haven't tried Bonchon's yet but I knew the concept behind it – the 'double fried' fried chicken. Then suddenly, I heard my name called out! It was my friend Ivy from Bikram Yoga! It was such a delight to see her, I think the last time I saw her was during my wedding last year! Hahaha.. As it turns out – the booth is manned by her cousin – and it was their first weekend that day. Ivy let me try her chicken wings and my gosh – was it goooooood. The chicken was very crispy and the sauce, it was heavenly! I couldn't describe the taste, basta it was really good! If my friend and I just found seats – we would have ordered so much chicken! It took me a while to decide to buy one, but when I got to doing it (I was really hungry!) they ran out of chicken wings, I settled for the chicken legs which cost P50.00 each, but they were much much bigger! I actually ate a piece inside The Stock Market – where we had lunch! Hahaha..
Delimondo's Corned Beef

My friend Kath was the one who told me about this. She said that it was the best corned beef ever! And that if there was a chance that Delimondo was in Mercato – I'd have to buy myself a can or more! And when I saw the booth – I immediately told my Panget that I had to buy a can, just to try it out! I was hoping to buy the smaller can, unfortunately – there's a new packaging – a bigger can that's just P15.00 more expensive. So I bought one, we have yet to try this can. I'll post when we do.
Mercato Centrale is such a fun place to go to if you're looking for foodie finds and if you're not watching your weight! Considering that I've been there two weeks in a row, I don't think I've seen everything yet. I have this yearning every Sunday to visit – call me crazy, but I enjoy walking through the tents of Mercato Centrale – there's certain pull that I can't explain. My Panget told me last night 'Don't tell me next week, Mercato tayo ulit' I just had to smile – and he knows what that means. Hahaha!! 🙂