The last time I was in Seoul was in 1995 or 1996.
All I remember during that trip with my mom was that the food was great everywhere. And I remember purchasing my ice skating shoes – that I was able to use once or twice in Mega. Also the Lotte Hotel and the Lotte shopping center/department store. Oh, and that Koreans do not know how to speak English.
Two weeks ago, my Panget broached the idea of going to Seoul for a business trip. I honestly wasn't excited because I wanted to go Hong Kong, but then my Panget's Seoul trip pushed through.
The flight that was booked for us left Manila at 12:20AM via Korean Airlines.
Hmm… I was hesitant because I remember listening to Malcolm Gladwell's Outliers and there was an issue with Korean Airlines before.
But then, what greeted us were pretty Korean flight attendants!
The plane was fairly new (I think) because each seat has its own TV with remote control for channel surfing and games! The flight took 3 hours and 50 minutes – and to kill time, I watched their In-Flight Entertainment which included an episode of Friends. Haha!! 🙂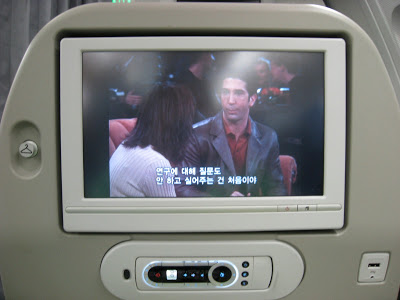 There were a lot of movies – from the new ones to even the classics! I honestly was laughing inside when I saw a grandma watching Twilight! Hehehe….
As for the meals – we were given a choice of Bibimbap and Beef with Rice. I picked the Bibimbap of course! And here is what it looks like:
The meal was actually good. It didn't carry the taste of the usual airplane food. I was most impressed with steamed rice and its packaging. The flight attendants of Korean Airlines were really nice and smiling all the time. Even if I pestered them with water and peanuts every so often – they still came back to me with a huge smile of their faces. They even spoke to me in Korean, assuming that I was one of them, hahaha!!
The flight all in all was pleasant my only complaint was that the time we left and arrived in Seoul. As my Panget would say – 'This is what you call, taking the red eye..'