A loss of a dog is heartbreaking, most especially if its due to the negligence of a trusted vet. This my friend S' story. She lost Marshall due to the negligence of a vet she trusted. Please be warned guys.
Marshall was an eight month old German Shepherd puppy. He was a very happy, friendly and smart dog. He brought so much joy into our lives. However, his life was cut short because of the negligence and ignorance of one of the veterinarians at Vets in Practice.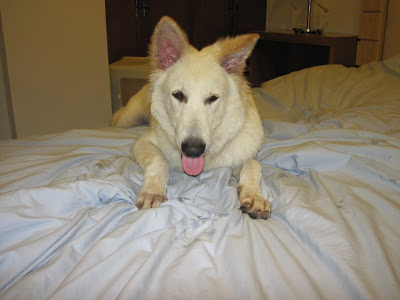 We brought Marshall to Vets in Practice because his paws appeared red and swollen. The vet assigned to us was Dr. Alison Saile. She prescribed betadine scrubs and Inflamol to cure his paws. Since we were there already, we decided to check if he had a recurrence of demodectic mange. A skin scraping test confirmed the recurrence. Dr. Saile prescribed an Ivermectin shot. Knowing that Marshall was a sensitive dog, we told Dr. Saile that we did not want that shot until his paws are better. Two simultaneous treatments could possibly stress him out and weaken his immune system. However, she insisted the need for the shot. It could get worse without the shot. I asked what the side effects of Ivermectin were and she confidently said there was none. Because of this, we agreed to get the shot.


The day after the shot, Marshall started to lose his coordination. We first thought that maybe his paws were sore that's why he sort of walked differently. Two days after the shot, he was slipping and falling all over the place. He just wanted to sleep. That's when I started to research and found out that loss of coordination and drooling were side effects of Ivermectin. I also found out that White German Shepherds, Collies and other dogs should not be given Ivermectin because they lack a certain gene to process it. It could cause blindness and death.


We rushed Marshall back to Vets in Practice to try to flush out the toxin from his body. He was given fluids, steroids, liver tonics, B complex but it was too late. He was actually paralyzed to death.


This tragic incident should not have happened if only Dr. Saile and the rest of the doctors at Vets in Practice knew that Ivermectin should never be given to white German Shepherds. Several studies have been published all over the world. I even sent them copies of studies published in 2007 and 2009. It's already 2010. How come they did not know?


To make things worse, they even lost the leash of Marshall. Dr. Donato said that one of the guys must have put the leash on another dog. I know our dog is gone and I don't actually need the leash. But that leash is Marshall's. And I want it back.


To make a long story short, if ever I have another dog, I wouldn't take my dog back to Vets in Practice anymore. Their negligence cost my dog's life. They did not even admit that it was their fault nor did they apologize. They only apologized after we sent them a letter saying how upset and angry we are over the situation. The offending doctor sent an apology via text message. I just feel that even if they are animal doctors, they don't really have much compassion for our dog and for us. A dog dying must be a regular occurrence for them, but definitely not for us.