These were the things that I spotted this weekend!! 🙂
I finally was able to see an actual Xplory stroller here in the Philippines! (I've seen actual ones being sold in Rustan's for a whopping P80,000.00++!!) This has GOT to be the first time I'm seeing one that is being used!!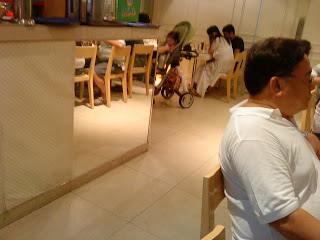 Can you see the green stroller at the back??
My jaw dropped when I saw the stroller – this is my dream stroller! Hahahaha……
I was also finally able to try Sebastian's Dive Bar! It cost P120.00 I picked:
Vanilla Ice Cream
Peanut Butter Dive
Rainbow Sprinkles (I am a sucker for rainbow sprinkles!!)
Pinipig
The verdict – it was soooooo good! It brought back childhood memories of munching on Magnolia's Pinipig Crunch!!