I started this last year. I'm doing it again this year!!
Christmas is indeed the time for giving – thus, I have GIFTS lined up for you guys!
Chirstmas Gift #1: Luxe 2010 Planner
– These cool planners will surely make organizing dates fun!!
– I'm giving one (1) planner away – let me know which one you want!


Christmas Gift #2: Amu'in Loot
– Everyone loves spa products!! 🙂 Check out Amu'in's site!
Christmas Gift #3: Gingerbread Tree
– It's edible and stays fresh for 3 months!! 🙂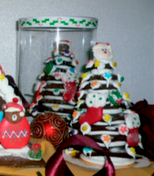 Christmas Gift #4: Bearhuggs Pillow
– Who doesn't love a fuschia colored STAR pillow!
Mechanics
1) Pick which of the five (5) gifts you want to receive;
2) Put that as the SUBJECT; (ex. Christmas Gift #1: Luxe 2010 Planner)
3) Email me at candishhh.contest@gmail.com with the following information:
a) Complete name (first & last name please!!)
b) Contact Number (this will be kept confidential of course!)
4) Finally – follow the format and any additional instructions of my reply email as incomplete entries are automatically disqualified.
5) DEADLINE OF ENTRIES: December 18, 2008 11:59pm
6) Winners will be announced on December 20, 2009 on this site!
By the way – you can send AS MANY ENTRIES as you want!!
Winner will be picked via raffle!! 🙂