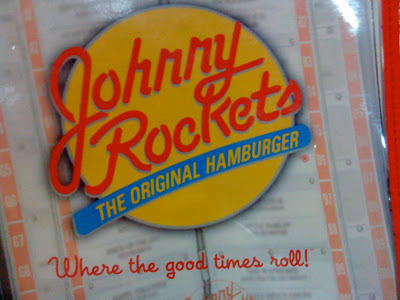 Ever heard of Johnny Rockets?
I haven't! It was only through my BIL (Brother-In-Law) and SIL (Sister-In-Law) that I heard it. BIL said that in the US – the milkshakes served were very thick and that they're really good.
So, on a Saturday night – after my Panget's and SIL's shopping quest at the St. James bazaar in Alabang, we went to Eastwood City, to try out the milkshakes!!
The resto was very well lit and music from the 70's was blasting from the antique jukebox (P1.00 song selection!) It was something like a blast from the past! Hahaha.. It was actually fun – to see servers all dressed in white with hats and aprons on. Something different, there was an American diner feel to it, as the interiors were filled with 60's or 70's memorabilia.
WE ordered half fried & half onion rings and milkshake.

The fries & onion rings were kinda small – I mean for the price – P125.00. The plate where the food was placed, was for me – tiny. I wanted to suggest to make the plates bigger, so the dish would somehow look it has value for money. Onions and potatoes aren't that expensive anyways.

The main event was the Milkshakes. I ordered the Strawberry Milkshake. The first sip was the hardest – as the milkshake was really really thick! My BIL thought that those big straws used by Zagu should be given instead of the regular ones. The flavor of the milkshake was just right, my Panget loved it and wanted another order! He got the Oreo Cookies and Cream flavor. The only downside? The price was a hefty P265.00 per milkshake.
They also have burgers in the menu – but the price is again, kinda steep for burgers. The prices of the burgers were like that of Chili's but the size – a little smaller, and the sidings – much much smaller.
Will I give it another go?
Definitely – to try out the burgers this time.. 🙂
(they have 100% soy burgers and turkey patties!)
Johnny Rockets
Eastwood City Mall