Grabbed from THIS site
I first learned of this restaurant on Facebook – when I got invited to be a 'fan' of the place. I initially thought that it might have been a mis-invite, I mean – I've never heard of this restaurant before. While in Guam last year, I saw the familiar signage – it was then that I was told (by my twin brother) that one of his friends own the Philippine franchise.
Last night was the first time for me and my friends to try out the place. We were celebrating because KY just got engaged!! We got to Capricciosa (Greenhills branch) at about 8 – I found it odd that the restuarant was empty on a Thursday night! I think we were the only customers that night! Midway through dinner – another group of 2, dined.
Looking through the menu – it was your typical Italian restuarant – there were soups, pastas, pizzas and the like. I noticed that the prices were a bit high, but what the heck – we were there to celebrate right? So celebrate we did!!
We got the Squid Ink pasta (as recommended by KY's brother Jul), the Spinach Au Gratin (the picture looked really good!) and a combination pizza, this wasn't exactly on the menu – but the server gladly informed us that they will be able to accommodate my request of having 2 flavors, in 1 pizza. While we were deciding what to get for appetizers, KY told the server if she would be nice enough to hand us a flyer that we can use to get a free appetizer. The server's face fell and informed us that when she gives us a flyer – it should be used on the next visit. We didn't push fr it anymore thinking we might get the ire of the staff and 'you know what' may happen, so we just dropped it. When the server left relay our orders to the kitchen, server B went to us and handed us a small flyer – server B told us to hand it to the server who got out order so we could avail of the free appetizer. It was such a sweet and gracious move!! Props to server B – thanks so much!! 🙂
Our orders arrived promptly and upon sampling each dish one after another – I have to say – I heart Capricciosa!! Loooove the food – they taste so great!! I was honestly expecting the food to be so so, but I was impressed! All of our orders were so yummy!! 🙂 I especially loved the pizza – there was a sweet tang in the tomato sauce and I loooooooved it!! Hahaha.. 🙂 The spinach au gratin was also good! It was creamy – not over the top creamy, but just right creamy! It has the perfect mix of cream, pasta and of course – spinach! The squid ink was also good, the bad thing – well – the black ink! But I guess, its part of the fun – right KY, KI and SE? 🙂 Here are some pics I took, I apologize for the quality as I just my SE W760i 🙂 Hihi..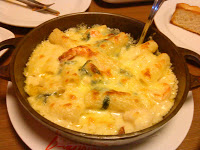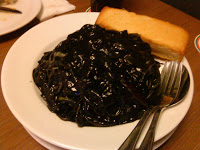 After munching on the dishes, we were told that we'd be receiving a complimentary dessert courtesy of Engie (Thanks Engie!) Remember the Friends episode when Joey was downing Rachel's english triffle? I sort of felt the same way, sans the meat of course! Vanilla ice cream – good! Warm blueberries – gooooooooood!! It was such a great way to end the fabulous dinner!! 🙂 I'm sure to come back with my Panget in tow, that's a promise!! 🙂
Total damage – Php450.00/head, not so bad right?
Capricciosa Greenhills
Connecticut Street, beside Conti's and Sakana Sushi