Sorry for the looooong delay!! But here's the round-up of my Guam Trip!! (I apologize for the loooooong post!!)
Pictures I missed in Part 1:
This is what welcomed us… Hahaha!!
Anyhoo – we switched hotels! Yes, because of the crappy service we got from Grand Plaza Hotel! Can you believe that they don't have AC in the hallways? Their ice machine in all 4 floors are busted – so are their drink vending machines!! Waaaaaaaaaah!! (As of the moment, the guanrantee charged to my credit card – has not yet been released! Argh..! It's been weeks already AND I have been emailing them time and again to remind them to release – they answer 2 days after I email saying they've done all the could – whatever!!)
We stayed in a waaaaaaaaay better hotel – a bit more expensive but worth every penny! Fiesta Guam Resort was great! The location was perfect! The value for money was too! I mean for a resort hotel – it was really good! Loved the atmosphere at Fiesta!! 🙂 I forgot to take a pic..
Here's Guam – in a nutshell – my Twin took the photos: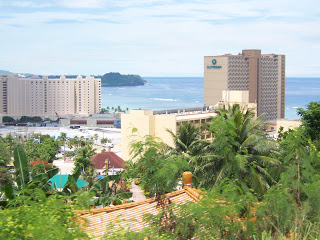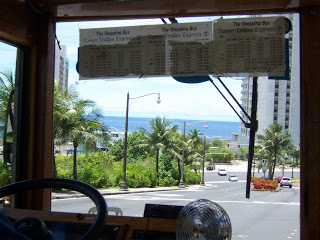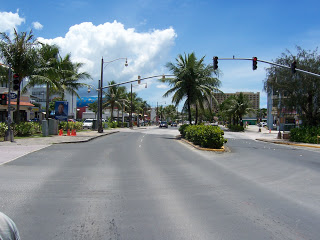 First thing's first – did I do a lot of shopping? Well, to be honest – not so much. I was expecting career high damage – fortunately – it wasn't (even if I was given the GO signal by my mom). I just bought a couple of dresses – and the others, well – they were food, lip balms, hair dyes and food (I know! I said that already!) I took pics of things that piqued my interest! Heheh.. I love going to US supermarkets!! I can spend hours and hours walking around! You won't believe how many times I went to K-Mart! Hahaha… Drum roll please! A total of 6 times – that's in a span of 3 days! Hahaha… That's how much I love walking around in supermarkets!! 🙂 I hope you enjoy the pictures!! Hihi…
Guam is a relatively small city. The population is just 140,000!! And 40-50% is composed of Filipinos! I was shocked to learn that Guam was once part of the Philippines? Is there any truth to that? Well, Guam is what the Philippines will be if we became a territory of the USA. I couldn't hide the fact that I was disappointed! Darnit!
To be honest – Guam seemed to me like a Japanese and Korean village – because everywhere you look – I swear you will see Japanese and Korean nationals walking around! Apparently – they're the bulk of tourists that you will see around – Filipinos only come third. So imagine a US territory (I was expecting to see a whole bunch of white people!) with Japanes, Koreans and Filipinos walking around and about the town! There were Twilight Zone moments but I had to constantly remind myself – 'Guam – territory of US – near Asia' And I will be ok an normal mode again. I also couldn't tell the difference between the locals (Chamorros) and Filipinos! Hahaha.. I would speak to them in English (just to be safe) and speak to my mom in Tagalog – if they turn to me and find it weird I can speak Tagalog they're Pinoys – if they don't – then they're locals! Weird but this works! Hahaha… Like this one time while at Cold Stone in Micronesia Mall – my mom was craving for ice cream (it was soooooo hot yesterday!!) so I was talking to my mom in Tagalog suggesting for her to try a different flavor – the female server looked at us in a weird way – but went on to give us a taste of the flavors we wanted. When my mom was paying – the pretty female server asked my mom 'Pinoy po kayo?' (with an American accent) and my mom said yes, she was relieved with the answer! Hahaha.. Sh thought she was hearing things!! Hahaha.. Hearing Tagalog words spoken by Asian looking people! Hahahaha…
Guam is soooooooooooooo laid back and relaxed! They do things differently – you cannot force things to move faster. They just do things as they are – no rush, just chill! I mean comparing it to Hong Kong – Guam is waaaaaaaaaay relaxed! It's like saying Hongers (my term for Hong Kong people) are full of stress and Guamese (my term for Guam people) are so happy, jolly and relaxed!
Food Pics!!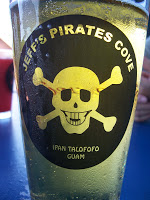 Jeff's Pirate's Cove – it's a very laid back bar/dinner/resto. Serves great burgers and some other stuffs like seafoods and grilled chicken and steaks!!
Samurai – Japanese food cooked by no other than… Filipinos! Hahaha… The owner? Well, they say he's Chinese hailing from Taiwan. Hmmm… The food was just so-so, but be sure to speak in Tagalog so that they give you a cheaper menu. Apparently, in Guam – if you're Japanese or Korean looking – more expensive menus will be given to you. Hahaha!!
Jamaican Gril – Ya Mon! The food here was just fab! My mom LOVED the ribs served here. She went on and on saying those were the best ribs she's tasted! The Jamaican rice was lovely – it was coconut-ty and partnered very well with the ribs and grilled chicken! Be sure to order the pitcher of the Jo-Mango juice! It's yummy!!