While walking around K-Mart – I was asking myself – did I need anything? Nothing popped! Hahaha.. Until I realized – that I was in a US territory, meaning most American goods that I always ask my Panget's brother to buy MUST be here somewhere. Right there and then, things I wanted started to come of my head! I searched for the following items first:
– Caladryl Clear
– Creme Bleach
– Carmex
– Vick's Vapor Rub (Made in Mexico – my Aunt, specified this!)
– Efferdent Denture Cleansers (my Aunt's)
– Pepcid AC Maximum Strength
– Lip Balms
– DIY Highlights Kit
– Pentel RSVP Pen Set
– Secret Deodorant in Vanilla
– And some other unique stuffs! Hahaha…
So, did I get all of them? Hahaha! I did – except for the Carmex – apparently, the K-Mart Guam does not carry Carmex! Hmmm.. Strange, but what can I do right?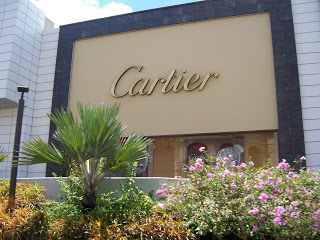 Shopping in Guam can be C.R.A.Z.Y. !! Think about this – a street that has 2 LV stores, 2 Gucci stores, 2 Bottega Venneta stores, 2 Prada stores, 2 Coach stores, and a whole lot more! The Guam Premium Outlet also makes people insane because it has storesNine West, Nike, Famous Footwear, Payless Shoes and who does not love ROSS?! Still not impressed? How about a 24-Hour K-Mart and 24-Hour Payless Supermarket?! It doesn't get any better than that! Shopping in Guam is a riot – they have most everything you need and want!! 🙂
ROSS is the BEST place to look for a good bargain! I went there, on a freaking Sunday – scoured the good with both tourists and locals! Held on to items I liked, protected them and sometimes hid the items out of sight! Hahaha.. Imagine what it was like when Mango was on sale (Zara and other brands were not yet in the picture) – not put a houseware area, men's area, kid's area, shoes area, accessories and bag's area and women's area! All in one roof! Imagine the number of racks! Hahaha!! This was actually my first time to see an actual Ross. I survived! Thank goodness!! It was like shopping mayhem! Hahaha…
To be continued..