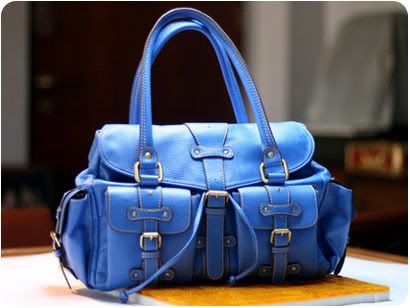 Photo borrowed from
Tiramisu Bags
This is my newest buy! It's as if I hadn't had enough of shopping already!!
You see, I only bought 1 bag during my recent trip to Hong Kong. I was very disappointed! And while reading through one of the blogs that I'm visiting rather often nowadays – Flair in the City – I saw this bag. I was immediately taken by it! I liked the color – I've never owned a blue bag in whole life! So I sent a text message to the seller – her name's Mika (0917.8601860) she told me that the bags are available but she only ships them to the buyers, I can opt to purchase them at Peppered Cherry at Serendra. Good thing – my Panget and I were headed there yesterday – and so I made calls to check if there were stocks in Peppered Cherry – there were! Yehaaaa!! I was excited!!
I was told by Mika that the bag was priced at Php950.00 – regardless if I bought it from her or from Peppered Cherry. And so I was just expecting a damage of less than a thousand bucks – but then – the cashier told me that it was indeed a thousand bucks! Well, since I was already there – what the heck right?! Kinda confusing though..
Anyhoo, I LOVE THE BAG!! It's so spacious!! There are lots of pockets! So many things can fit inside the bag!! 🙂 I really love it! Too bad it only comes in 1 color! I would have gotten it in all colors! (..that's how I am when I am in like with an item!)
Tata!!